Yangtze River Weather
As the third largest river in the world and with a length of 6,307 kilometers (3,900 miles), the Yangtze River runs through eleven provinces. Situated in the subtropics with latitude of 30 degree north, the weather on Yangtze River features strong wind, humid and less sunshine. The average temperature in July is about 30 °C (90F) and lowest in January is about 10 °C (50F). In summer, there is often thunder storms and heavy rain. The level of water in the river is higher from July and September, while winter is cold and water level lower.
Best time to take a Yangtze River cruise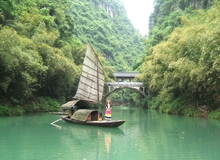 The average temperature in spring is about 12-18℃ and in autumn average temperature is 15-20℃. Because of its temperate climate, April, May, September and October are the best time to take a Yangtze River cruise. These four months are the high season for travel and have higher prices than low season (March, June, July, August and November).
Winter is a good season to travel because of its lower prices and it is less crowded. In addition, scenery at the Three Gorges (the most impressive section of the Yangtze River) is more breathtaking because of the much lower water level.Take a look at cruise ships at the Yangtze River.
Weather in major cities along Yangtze River
Chongqing
Chongqing is famous for being foggy year-round and is called the foggy city. The average temperature is 18℃. Read more about Chongqing weather.
Shanghai
The weather in Shanghai is overall mild and moist all year round, with spring and autumn being the best time for traveling. More about Shanghai weather.
Yichang
Yichang is very hot and humid during summer, damp and very cold in winter. Read more about Yichang weather
Wuhan
Wuhan is one of China's "Furnace cities", which means it gets very hot in summer. Read more about Wuhan weather.
Nanjing
Nanjing is located downstream on the Yangtze River is also one of China's "Furnace cities". Read more about Nanjing weather.