Services on Yangtze Cruise Board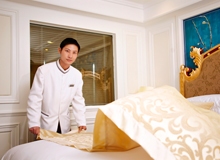 Customer services
Customer services are available 24 hours a day during your Yangtze Cruise holiday. On your cruise, you will have the service of a full-time cruise director and a river guide, who will introduce amazing sceneries and interesting legend about china and Yangtze River. The well trained and accommodating local staff will make you feel right at home when you take on cruise. Different ships will provide different facilities to customers, please check our or ask the staff about the facilities on your ship and cabin.
Shore Excursion Service
Each shore excursion need customers change transportation to the scenic spots, with an excursion guide provide service on the bus. Please follow your pointed land guide.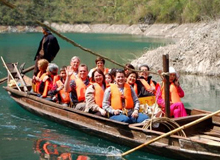 Internet Services
Internet services are available on Yangtze cruise ships and help you stay connected to your friends, family during your Yangtze cruise vacation. But Internet services on most cruise ship can be unreliable. Only the President Prime has internet access in the cabins and this cost RMB80/hour.Other ships have internet cafes which can be used for a fee. The charge for different ships is listed below:
Vitoria Cruises: RMB 150/per person for whole cruise.
New Century Cruises: RMB30/hour
President Cruises: RMB100/ hour
CH Victoria, Yangtze 1, Blue Whale and Sunshine China: RMB60/hour
Rooms are not internet equipped. International phoning capabilities and fax options are fee-based and you can sign these charges to your account and settle them at the end of the voyage.
Tips: These services may not be available at all times in the Three Gorges.
Laundry Services
Each cruise will provide laundry services and some of ships can not provide dry cleaning. Put the laundry and filled-out list in the laundry bag, and then contact the housekeeping center.
Cultural Lessons Service
Besides the regular shore excursions, most Yangtze cruise organizes various colorful cultural programs and activities, such as Chinese Taichi, traditional drawing, Mahjong, folk performance and making dumpling. Please see the schedule for each day and don't miss what you are interested in.