Young on Yangtze Cruise
Whatever you are alone or travel with your friends, Yangtze cruise trip will let you have a nice journey.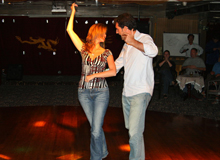 Dancing with friend
For Single Passengers
Make a new friends from all over the world is an interesting thing. The Captain's welcome party, Chinese traditional cultural lectures, watch crew's shows in bar and shore excursions can offer opportunities to single passenger make a new friend. For those who want to alone and relax personal time, fitness gym, luxurious spa or message and sun-deck are good places.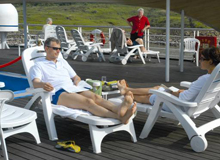 Relaxing with parter on sun-deck
For Lovers and Honeymoon Passengers
On a Yangtze cruise there is no end of fun! By day or by night, you can choose how to spend your time, playing or relaxing, always ready for a pre-dinner drink by the pool or a night at the disco. Rejuvenate with a couples massage in our Spa center, savor a quiet dinner together and relax by the pool and simply do nothing at all. Enjoy your romantic and sweet time together while making memories to last a lifetime.
\