Senior on Yangtze Cruise
Take a Yangtze cruise maybe is one of itinerary of your fast-paced china land tours. For elderly, a Yangtze cruise journey is the best vacation considerable service, food, ease of movement and leisurely itinerary.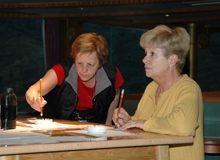 Drawing Chinese paiting
Enrichment Lectures
Make a new friends from all over the world is an interesting thing. The Captain's welcome party, Chinese traditional cultural lectures, watch crew's shows in bar and shore excursions can offer opportunities to single passenger make a new friend. For those who want to alone and relax personal time, fitness gym, luxurious spa or message and sun-deck are good places.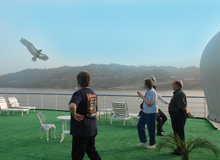 Relaxing on sun-deck
Soak up the sun on the Sun-deck
On a Yangtze cruise there is no end of fun! By day or by night, you can choose how to spend your time, playing or relaxing, always ready for a pre-dinner drink by the pool or a night at the disco. Rejuvenate with a couples massage in our Spa center, savor a quiet dinner together and relax by the pool and simply do nothing at all. Enjoy your romantic and sweet time together while making memories to last a lifetime.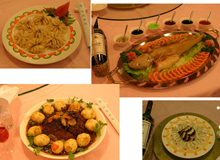 Local cuisine on Yangtze cruise
Special Diets
The Yangtze cruise will take care of elder's special diets. Special diets such as low sodium, low fat, low cholesterol, sugar-free entrees and desserts are met and please inform your cruise consultant in advance if you have any special needs.
Tips: some cruises have wheelchair for those inconvenient people, please inform the cruise consultant if you need.