Family Onboard
Whatever your travel, with you family will let your trip more funny and memory. On a Yangtze cruise, all activities like shows, shore excursions and activities are fit your family joins together. The ships are packed with lots of activities for adults and supervised activities for the kids. From morning to night the entertainment staff will prepare to entertain children and teens, giving you the time to relax and enjoy the whole cruise and, if you like, while on excursions.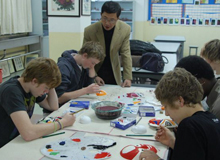 Family shore excursions
Family Fun
Kids and their parents can get together and participate in fun activities like karaoke, bingo, making dumpling, drawing and even a talent show. These activities are a great opportunity for parents and kids to spend time together and have loads of fun while they're at it!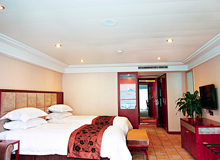 Spacious room on President Prime
Cabins for family
When a family goes out for a long trip, a comfortable accommodation is very important. The cabins with spacious space can provide an extra bed for children under 12. The cabins are recommended for family, deluxe cabin with balcony on President Prime, deluxe cabin on Century Cruises and junior cabin on Victoria Cruises.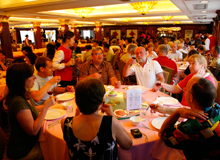 Table dinner on yangtze cruise
Meals for family
When it comes to dining, the cruise will cater to all ages. Even the pickiest eater will savor the flavor of our cruise vacation. Customers can choose the Chinese or western buffet, and the ships also offer the 24-hour stateroom service, so finding the perfect time for the family to chow down is just as simple. If the customer has any special dinning requests, please contact us or your travel advisor the details in advance so that we can tell the ships to prepare or you can tell your request to worker when you aboard cruise.