Captain's Party on Yangtze Cruise
During your Yangtze cruise journey, the ship will hold captain welcome party on the second day and farewell party on the third day.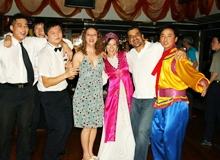 Welcome Party Activities after dinner
Captain's Welcome Party
In the dinner, the Captain and crews will welcome guests with a party. The crew members will perform folk dances and traditional music for the guests. At the end of the party the Captain will toast the guests and all will be welcomed onboard. Visitors can have photo with captain after the dinner.
Farewell Performance
For say goodbye to customers, the staff will arrange crew performance. They will show some songs and dances which design by themselves.