Dinning on Yangtze Cruise Board
Tasting Yangtze style food is a part of highlights of china trip. Chinese food has become a staple world food, loved by people in all countries and of all walks of life. On a Yangtze River cruise, visitors can taste more than two series of Chinese food because the cruise sailing stretch through Sichuan and Hubei. Sichuan food is famous for it's hot, sour, sweet, and salty. Hubei food is famous for its freshwater fish dishes since almost every fish available in Hubei can be prepared into different dishes. Vary dishes and foods are serving by different cruise ship series. Normally, Chinese food and western food are both served in a Yangtze cruise. When dinning onboard, customers are arranged with ten persons as a group based on nationalities, diet habits or other cultural background.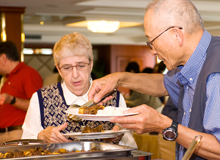 Breakfast
To start your morning with a sumptuous Chinese and western buffet breakfast including egg dishes cooked, fresh breads, fruits, yogurts, bacon and eggs. Also Chinese dumpling, noodles and fried rice are served. There are more than 20 kinds of dishes to serve.
Lunch
Lunch is including hot and cold meats which are selection of regional specialties. Victoria series and new century cruises are providing buffet service-more than 20 special Chinese and western specialties are waiting for customer taste. President cruises and china dragon cruises will serve as Chinese table lunch.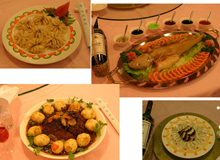 Dinner
Dinner is a table service with about 6 appetizers and 8 specially selected delicious Chinese food. On some luxurious ships, they will offer western and Chinese buffet. Dining on a cruise is arranged at second floor of the ship and meals served at fixed time. Generally, breakfast is from 06:30 to 09:00, lunch served from 11:30-13:00 and dinner served from 5:00-6:30. Lunch and dinner can offer one bottle of soft drink and visitors need to pay extra fee if they need more.
If customers have special dinning requests, such as vegetarian, salt-free, low-carbohydrate and Kosher, please tell your staff in advance so that it can be order. And Victoria cruises, New Century Cruises, Yangzi Explorer, President Prime and Yangtze gold 1 have a la carte restaurant to fit customers' special dinning requests. Drinkable water is offered through the room thermos and bottled water. Two bottles of water be offer each day.
Tips: Please do not drink the tap water. You are suggested buy bottle water in local supermarket when you board your ship.