Extra service-Chinese massage
After visitor normal schedule have shore excursions, let your body have a rest to make Chinese spa and massage. Chinese spa offer facials, scrubs, massage therapy, body therapy, body wraps and salon services. Make these additional service will add to the fun of your travel.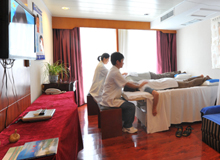 Chinese massage
Chinese Tuina & Massage
Tuina (Tui Na) is a hands-on body treatment uses martial art principles to bring the body to balance. With over 2,000 year's history and through the application of massage and manipulation technique, Tui Na has established harmonious system allowing the body more naturally heal itself.
The methods of Tuina (Tui Na) include the use of hand techniques to massage the soft tissue (muscles and tendons) of the body, acupressure techniques to directly affect the flow of Qi, and manipulation techniques to realign the musculoskeletal and ligamentous relationships (bone-setting). External herbal poultices, compresses, liniments, and salves are also used to enhance the other therapeutic methods.
Customers need to wear loose clothing and no shoes lies on a table or floor mat. Firstly, the worker will relax your body and asked which parts of your body are pain and need more take care in order to attach the aid of treatment. Advanced Tuina (Tui Na) practitioners may also use Chinese herbs to facilitate quicker healing. Sessions last from 30 minutes to 1 hour.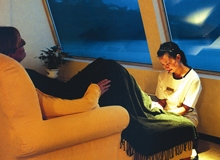 Foot massage
Foot massage
On a Yangtze cruise there is no end of fun! By day or by night, you can choose how to spend your time, playing or relaxing, always ready for a pre-dinner drink by the pool or a night at the disco. Rejuvenate with a couples massage in our Spa center, savor a quiet dinner together and relax by the pool and simply do nothing at all. Enjoy your romantic and sweet time together while making memories to last a lifetime.