Nightlife on Yangtze Cruise Board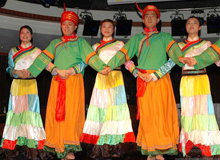 After your dinner each day, the lights turn up on board, the night entertainment are wait for you. The ships will arrange folk dance and fashion show, in which both crew and passengers participate. And cabaret show is an opportunity for passengers to display any special talents they may have. This is a wonderful chance to unwind and enjoy the experience while cruising on a Yangtze cruise.
If visitors prefer to relax in a quiet place out of worries, lounge room of ship is a good choice. Sip cocktails and cigar while get views of sunset along Yangtze River. Or just walk to sun-deck to breathe night gentle breeze.
If you prefer to simply relax in your cabin, feature films are presented on your cabin television.