Along Yangtze Travel Guide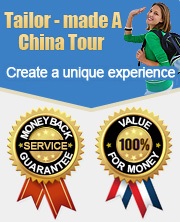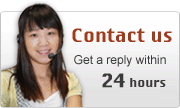 Top Things to do in Shanghai
Of all the Chinese cities, Shanghai is usually thought of as the most modern. While Shanghai is known as being a high-tech and modern city, it also has a long history and is a cultural center as well. The city is divided into two large sections – Puxi, which is west of the Huangpu River and Pudong, which is east of the river. Pudong is the newer area filled with skyscrapers, multi-million dollar companies and is known for being new, while Puxi is the historical area that has a lot of the history of the city. Seeing both sides of the city is important in order to get a good idea of just how fast the city is Chonging.
Must See Sights
The Bund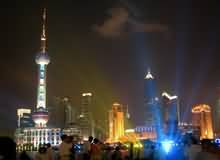 Shanghai Bund
The Bund is what is considered old Shanghai on the banks of the Huangpu River – well, a version of old Shanghai that has been renovated and turned into a tourist attraction. In Shanghai's past, this is where all of the foreigners who lived in the city called their homes, and travelers can see the influence of different countries in some of the architecture. Every tourist gets their picture taken with the skyline of the city (and the Huangpu River) in the background.
Vire more details

The Oriental Pearl Tower
The Oriental Pearl Tower is one of China's tallest buildings and getting to the top gives tourists a great view of the Shanghai skyline. Each bubble (or pearl) on the tower has something different inside – a museum, a restaurant, an observation deck, etc., and different prices of tickets offer different admissions. View more details

Yuyuan Garden
Nothing in Shanghai is going to be considered tranquil, so while most travelers might try to escape to Yuyuan Gardens to find a bit of peace, they probably won't find it. They will find one of Shanghai's most famous bridges, the Bridge of Nine Turnings, which has nine zigzags, along with ponds, rock formations and pavilions and towers. More details please click here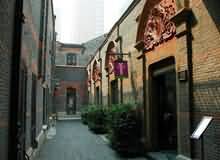 Walk Around French Concession
The Shanghai Zoo
This is a tour stop for most of the tours around Shanghai. Unlike most of the Chinese zoos, the Shanghai Zoo is actually pretty humane and is a nice place to go with the family.
French Concession
One neighborhood that foreigners traveling to Shanghai typically enjoy is the French Concession. This area used to be called the Paris of the East and is filled with boutiques, cafes, and tree-lined streets. Today, the French Concession is one of the cities most exclusive neighborhoods.
Nanjing Road
Shanghai is China's most famous shopping city and Nanjing Road is the place to go for shopping. Every major brand both from the west and from China has a store on this street.
What and Where to Eat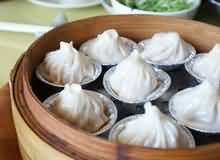 Guan Tang Bao(Shanghai Soup Parcel)
There are restaurants from every region of China and from nearly ever region of the world in Shanghai, so finding something to eat is not difficult. Travelers who want to have typical Shanghai food should try the steamed soup buns. These are available in other parts of China, but are also a Shanghai specialty. Be careful when drinking the soup out because it is hot!
Because Shanghai is located close to the sea, seafood and fish are popular in the city. One special dish that many people in the area like to eat is Shanghai hairy crabs. Served in their shells after being boiled, this is a treat that is eaten often in the colder months.
Like with other parts of the China, the residents of Shanghai also eat a lot of snacks. Most of these snacks are some sort of fried and sweet bread. Trying a few of these snacks is a cheap and delicious meal.
What to See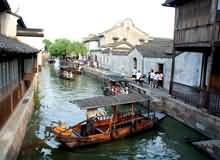 Dinning on Yangtze River Cruise
Shanghai City Beach: Travelers in the spring and summer months are going to want to head out to the city beach. While the beach is pretty small (a bit more than a mile long), it's busy on the weekends and during special events.
Jinshan Donglin Temple: Travelers who are interested in Guinness' World Records will want to take the trip outside of the city to see the Jinshan Donglin Temple, which holds three world's records – the world's tallest indoor statue, the world's tallest Buddha Cloisonné and the world's highest bronze door. The temple is over 700 years old and while it has been renovated, it is still worth the hour on the bus to get there from Shanghai.
Hangzhou and Suzhou: While these cities are close to Shanghai, it's still a trip to see them. Both cities are considered garden cities, and are among China's most beautiful cities. Hangzhou has the famous West Lake and Suzhou is often called China's Venice. By high-speed train you can get to either of these cities in less than two hours.
What and Where to Buy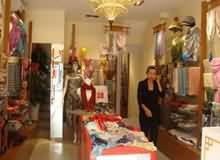 Dinning on Yangtze River Cruise
Major western brands all have stores in Shanghai, but you probably want to pick up something that will allow you to remember your trip. Nanjing Road has a lot of stores, but if you are looking for tourist things, go to the underground markets near the Yuyuan Gardens.
Silk
Shanghai is the city in China where silk production is an important industry. While you can find silk in every corner of China, many argue that the best of the best comes from Shanghai.
Tapestries
Along with silk, Shanghai is famous for tapestries, both made from silk thread and other materials. Weaving and embroidery are also important art forms, with both traditional and modern pictures depicted.
What to Do
At night, there is plenty to do in Shanghai. The Bund lights up and is a must-see for tourists who were there earlier in the day. Besides the lights of the city skyline, Shanghai also has one of China's biggest and most liberal night scenes.
Every night there are two shows that go on in Shanghai: Era Times and Shanghai Circus World. Seeing at least one of these two shows is a must if you are traveling with kids. These aren't just traditional circus or acrobat shows, but use martial arts, technology and more to make it a show you won't forget.
While Shanghai is known for being a rich and important city in terms of finance, most tourists aren't interested in this aspect. Instead, they come to Shanghai for the culture, the glimpses back in history and the chance to be amazed at how much the city is changing and how quickly it is changing.