The Bund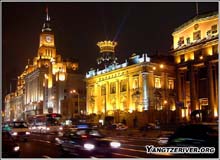 The symbol of old and new Shanghai, the Bund (officially known as Zhongshan Road) is Shanghai's most famous landmark. The 'Bund' is from an Anglo Indian term meaning the muddy embankment on the waterfront, and it is the HuangpuRiver which helps create the uniquely colonial feel here and provides a feeling of space and openness which is lacking elsewhere in the city. Four kilometers long, the Bund has long been one of the most important areas in Shanghai. In the 1930s, the row of buildings was host to the city's financial and commercial centers and the world's greatest banks and trading empires established a base here.
What to See
At the North end of the Bund and just over the Garden Bridge and Suzhou Creek is what was formerly the British embassy. Also here is a large and atmospheric blue painted building which is the Russian Embassy, sitting precariously on the bank of the river. In colonial times, the Bridge was guarded by Japanese and British sentries marking the boundaries of territory.
On the 'British side' of the bridge is the entrance to Huangpu Park. More of a pedestrian walkway than a conventional park, this area was also under the control of the Brits. The BritishPublicPark (as it was once known) was forbidden territory to Chinese people for years, unless they were accompanying employers. Today, the park is free and open to all and is a well- maintained walkway providing excellent views over the river to Pudong and down river to the old Custom House and other colonial relics.
On the west side of the Bund tower various buildings of different architectural styles including Gothic, baroque, and Romanesque. The combination of these creates a unique boulevard, which resembles the Liverpool Docks and 1920s New York.
Today, the Bund is still home to many of the city's hotels, bars and banks. The nature of the area has not changed so dramatically either. Huge western banks and office buildings dominate the horizon of the Bund, emphasizing the role the city plays as a commercial and financial base.
What to Do
The pleasure of the Bund, is that it is not simply a tourist strip but a place that everyone enjoys. At sunrise, the boulevard fills up with people of all ages practicing Tai Chi or dancing. In the day, while visitors file up and down the long strip, it's business as usual in many of these magnificent buildings. And, in the evenings, couples wander along the river front, holding hands and enjoying the spectacular city lights, buildings and atmosphere of the area which provide a continual reminder that Shanghai was, and in may ways still is, a foreign invention.
Shanghai Tours includes the Visit to The Bund
Essence of Shanghai Tour Price from $289 p/p
Shanghai Memories Tour Price from $499 p/p
Shanghai Classic Tour and Maglev Train Experience Price from $319 p/p