Shanghai Oriental Pearl TV Tower
A proud architectural design of the Shanghai Modern Architectural Design Co. Ltd, the Oriental Pearl Radio and TV Tower, as it is officially known, is strategically housed on the cusp of Pudong District's Lujiazui, aside the Huangpu River.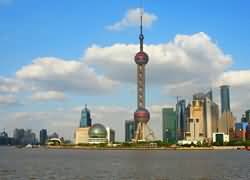 The Oriental Pearl TV Tower did its bit to stir up the record books since it indeed held the record as China's tallest structure, for a time period spanning 13 years, from 1994 to 2007, after which time the Shanghai World Financial Centre took over that title.
Highlights
Visitors can enjoy a trip up and down the tower, in double-tier elevators that can accommodate up to fifty passengers at a time, while the guides run through some information about the tower in English.
The inner-most tower doubles up as a recreational palace, while the first sphere (the bottom sphere) houses a space station that is complemented by a sightseeing hall, with the base of the tower housing the Shanghai Municipal History Museum.
The Oriental Pearl TV Tower offers a great view of the nearby Yangtze River, particularly from the higher spheres and there are a number of other integrated destinations to enjoy in the tower, such as the hotel rooms in the smaller spheres as well as the sightseeing floor, restaurants (with a rotating restaurant in the mix) and some shopping outlets, all of which are housed at the very top of the tower (the Pearl).
Travel Information
Entrance Fees
Depending on the time of day you choose to visit, the admission fee ranges from 35 Yuan to 150 Yuan and that also depends on which areas of the venue the tour covers.
Ticket types are as follows:
Second-sphere Shanghai Municipal History Museum - 35 Yuan
Entrance with visit to the second-sphere sightseeing hall - 100 Yuan
Second-sphere sightseeing hall & Municipal History Museum - 120 Yuan
Two-sphere through-ticket which includes the Shanghai Municipal Museum and admission fee - 135 Yuan
Three-sphere through-ticket which includes the admission fee, Space Module (upper sphere) and Shanghai Municipal Museum - 150 Yuan
How to Get There
There are about nine busses that one can catch, namely Bus No. 81, 795, 799, 870, 961, 971, 985, 993 and 993 as well as Subway Line 2 (terminate at Lujiazui Station), but probably the best option is the City Sightseeing Bus, from which you will get off at the station.
Operating Times:08:30 - 21:30