Meet the Web Host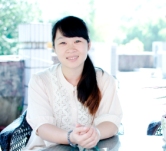 Hello There!
This is Vivivan Cen, the web host of Yangtzeriver.org, I worked for China Travel's team as English tour guide before moving into the office and I am now in charge of its two sub-sites. I put all my experience as tour guide into designing tour products and website maintenance. I trust that you find exactly what you are looking for in our website but welcome your suggestions, please contact me at : vivian@chinatravel.com!
Yangtze River Though My Eyes
Yangtze River is the cradle of Chinese civilization and a "must see" attraction. By taking a Yangtze Cruise ship, you can enjoy the grand scenery along the river; get to know the lifestyle of the people, both in Yangtze delta area and whole China. Since I have take cruise to visit Yangtze River, I was charming by its marveling sceneries: Fengdu Ghost City for its Chinese culture and mythology, Lesser Three Gorges for their natural beauty and Three Gorges Dam for its engineering magnificent. The pictures I show you as below are my personal favorite.
My Favorites in Yangtze River
Recommend Yangze River Tours by Yangtze River Host
China Relaxation Tour from

$1880


The Forbidden City, Great Wall at Mutianyu, Hutong Tours in Rickshaw, Shaanxi Historical Museum, Panda Room in Chongqing Zoo, Oriental Pearl TV Tower plus History museum
Shanghai Sights & Yangtze Combo from

$1178


Oriental Pearl TV Tower, Yuyuan Garden, Shanghai Museum, The Bund, Goose Neck Park, Ciqikou Old Town
Guilin Sights & Yangtze Combo from

$946


Reed Flute Cave, Elephant Trunk Hill, Li River Cruise, Panda Room in Chongqing Zoo, Ciqikou Old Town