Victoria Jenna
Launched in 2009, Victoria Jenna is one of the largest, most technologically advanced ships on the Yangtze River. The 10,000-ton, 418-passenger vessel is almost 440 feet long, spans six decks and is roughly 50 percent larger than other Victoria cruise ships. Victoria Jenna is equipped with two dining rooms (a main dining room and an a la carte restaurant).All 208 cabins have televisions with HBO and CNN broadcasts, private bathroom with shower and bathtub. Rooms are not internet equipped and the ship has internet cafes which can be used for a fee (RMB 150/per person for whole cruise).
Due to scheduled maintenance at the Three Gorges Dam ship locks at certain time of the year, the Yangtze Navigation Authority would advise that no traffic will be permitted through the ship locks during this period. The Victoria Ships sailing from Chongqing to Yichang will not be permitted to sailing through Yichang, they will dock just west of the Three Gorges Dam at Maoping, and this will not affect the sightseeing on Three Gorges Dam site.
If in the dry season that low water level of Yangtze River, the Victoria Cruise Ships itinerary for boarding and disembarking dock will be change to depart further downstream from Fengdu or Fuling.
Price Details
Buy now – avoid price rises! We now offer instant online bookings.
Choose

for instant confirmed booking and get a FREE upgrade to a higher deck. Click Pay Now to choose your suitable cruise and buy it online.

Notes:
All passengers on Victoria Cruises sailing between Chongqing and Yichang are required to pay $23/RMB150 per person as service charge. The service charge is payable at the time of boarding.Customer request a specific deck need an additional fee (RMB450-RMB1000) based on the floor of ship.
Customer request Superior Cabin upgraded to the executive deck just pay more USD$115 per person,that you will enjoy the following VIP service:
1.Complimentary morning coffee and tea service
2.Welcome Fruit Basket
3. Complimentary Wi–Fi service in the Executive Lounge and lobby areas.
4. Complimentary internet computer usage in the Executive Lounge.
5. Complimentary regular laundry service (up to 4 items per day, not available on embarkation & disembarkation days, no express service).
6. Nightly turn down service with printed Daily Itinerary.
7. Diet soda included for lunch and dinner.
8. Private shore excursions with 6 or more passengers in a particular group.
9. Dining selection from two dining rooms (choice of dining room to be made at the beginning of the voyage). The Dynasty Dining Room offers buffet breakfast, lunch and dinner daily, and the Captain's Farewell Banquet on the final night of the voyage. The A la Carte Restaurant offers buffet breakfast and lunch, and an a la carte menu at dinner.
10. Hot & Cold soft drinks available daily in Executive Lounge (Pepsi, Sprite, Juice, Coffee, and Tea).
11. Complimentary "Happy Hour" one hour before dinner in the Executive Lounge (including House Wine, Beer, and Soda)
12. Reserved seats for evening entertainment may also be reserved through the Cruise Director by passengers purchasing the Executive Deck Program. We ask that those who have reserved seats arrive for the show 15 minutes prior to the scheduled starting time.
Price Inclusion
Entrance fees:The land excursions listed in the itinerary.
Meals: The daily meals on the ship.
Room: A berth in the cabin as specified in the itinerary. Overnight accommodation for morning departure (except Victoria sailing from Chongqing to Shanghai).
Credit card processing fee & Government Taxes.
Price Exclusion
Transfers: Between airport/hotel and cruise terminal in Chongqing/Yichang/Shanghai.
Single Room Supplement.
US$23/RMB150 per person as mandatory service tip should be paid onbaord. Cruise between Chongqing and Shanghai should be paid $48/RMB 300 per person.
Personal Expenses: Expenses of a purely personal nature such as laundry, drinks, fax, telephone call, optional activities, sightseeing or meals which are not included in the itinerary.
Cruise Itinerary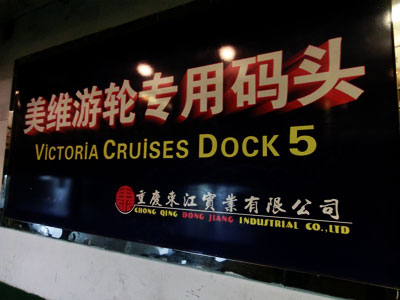 DAY 1
Board the ship from 5:00pm to 7:00pm and departs Chongqing at 9:00pm.(Dinner is not included)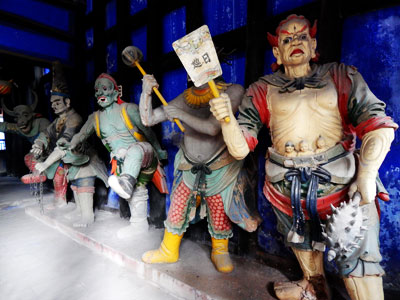 DAY 2
Learning traditional Chinese Taiji boxing. shore excursion to Fengdu Ghost City.You have the option of visiting White Emperor City(RMB295 per person). Captain Welcome Dinner. Victoria costume show.

DAY 3
Sailing through the Qutang Gorge. Sailing through the Wu Gorge. Sailing through Xiling Gorge. Shore excursion to Goddess Stream (3:15pm-6:15pm). Farewell Buffet. Farewell Party. Optional tour to the White Emperor City, cost RMB295 per person.
DAY 4
06:30 Learning traditional Chinese Taiji boxing 07:30 Shore excursion to The Three Gorges Dam Site. 13:00 Arrive in Yichang. Lunch is not included.