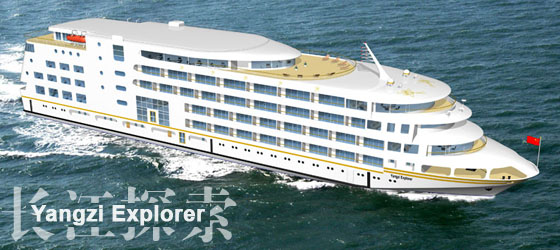 Customer's reviews:

4.75

out of 5

102

Customers have booked it in 2012.
Cruise Itinerary: ChongqingYichang
Hot FAQ:
Cruise Facts
| | |
| --- | --- |
| Star Rating: | 5 |
| Maiden Voyage: | 1994 |
| Accommodates: | 124 |
| Length in m (ft): | 91.5 (300) |
| Width in m (ft): | 16.4 (54) |
Why Choose:
Super Spring Deals!

-- pay one full fare and get the 2nd for free! departure on Mar 17 & 24, and Apr 7, 2013.

VIP's that Choosen

--Chosen by Bill Gates and Warren Buffett

Best value for money

--Famed by the most deluxe cabin on Yangtze

Personal VIP service

--124 crews, serve for 124 passengers only.
About Cruise President Prime
Boasts the largest deluxe cabin on the Yangtze River, Yangzi Explorer called one of the most luxurious cruises after rebuilt in 2008. With a capacity of 124 passengers, Yangzi explorer offers their personalized, considerable, comfortable and wholehearted services to customers. Have a nice rest in deluxe cabins, taste the delicious food made by Austria chefs in imperial restaurant, experience charming sceneries along Yangtze from private balcony or sundeck, all of these makes a journey full of relax and enjoy.
Total only capacity 124 in 38 deluxe cabins, 20 deluxe suites and 4 imperial suites.
Various cultural lectures- Chinese Medicine Demonstration, Taichi Learning, Silk Embroidery Demonstration and Chinese Brush Painting and Calligraphy.
Fabulous onboard activities- Captain's Welcome Reception, Welcome Crew Cabaret, Emperor Farewell Dinner and Movie of the Day.
International Buffet Breakfast, lunch and A la Carte Welcome Dinner offer specialities of local food to passengers.
Complimentary Afternoon tea with Pastry served at Explorer bar.
Choose your favourite itineraray, type of cruise cabin room and sailing date or select

for instant confirmed bookings in real time.
Sailing Dates
Celestial Suite
Deluxe Cabin
Imperial Suite
Jade Suite
Upstream:
Yichang >
Chongqing (5 days)

May 26-May 30, 2013

$5,649

$1,799

$5,649

$4,879

Jun 2-Jun 6, 2013

$4,189

$1,239

Request a Quote

$3,549

Jun 9-Jun 13, 2013

$4,189

$1,239

Request a Quote

$3,549

Jun 16-Jun 20, 2013

$4,189

$1,239

Request a Quote

$3,549

Jun 23-Jun 27, 2013

$4,189

$1,239

Request a Quote

$3,549

Show: results
Special Note:The spring special offer is valid for departure on Mar 17 & 24, and Apr 7, 2013, and avilable for Deluxe Cabin and Suite. The Yangzi Explorer has a 200 yuan (US$32) per person "extra service fee". The service charge is payable at the time of boarding or at the end of the cruise. *Our prices include our service fees, but cannot include extra service fees charged on the cruise ships.
Price Inclusions:
A. Entrance fees:The land excursions listed in the itinerary.
B. Meals: The daily meals on the ship.
C. Room: Overnight accommodation for morning departure (except Victoria sailing from Chongqing to Shanghai). A berth in the cabin as specified in the itinerary.
D. Luggage Transfers: Between ship and passenger terminal.
E. Service Charge & Government Taxes.
Price Exclusions:
A. Transfers: From airport to passenger terminal in Chongqing/Yichang/Wuhan.
B. Personal Expenses: Expenses of a purely personal nature such as laundry, drinks, fax, telephone call, optional activities, sightseeing or meals which are not included in the itinerary.
C. Single Room Supplement.
D. Gratuities, Tips to guides.
Got a question? Ask us here
Customers' Reviews
The activities seemed very old fashioned to me but clearly appealed to most customers. The crew worked very hard. We enjoyed the embroidery talk and bought several pictures.
Mr. Nigel John Russell WEST, 2012.3.1
We had a great trip to incredible China!! My family and myself enjoy very much every day in your country , especially in cruise on President Prime ship.
Mr. Bill Pfeiffer, 2012.3.15