You are now at:
Home
>> Top Ancient Towns along the Yangtze River
Top Ancient Towns along the Yangtze River
The mighty Yangtze River is the cradle of ancient Chinese civilization and therefore was the location for many towns. Most disappeared in history but some remain to tell their stories. A visit will prove a fascinating experience.
Jinzhou Ancient City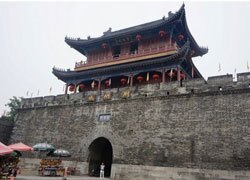 Jingzhou Ancient City is located in Jingzhou City in Hubei Province which is 200 km from Wuhan City and 90 km from Yichang City. It has a history of over 1,000 years. Built in the Spring and Autumn and Warring States Period, Jinzhou's city wall was once the dock for official ships. The existing ancient city wall was rebuilt during the Ming and Qing Dynasties.
Jinzhou's ancient city wall is 2.33 mile (3.75 km) long, 1.24 mile (2 km) wide and 9.65 yards (8.83 m) high and is the best preserved in southern China. There are 6 gates with gate towers. Now it serves as a great place see examples of the Chu Culture and the culture of the Three Kingdoms.
The highlights are a Walking Tour on the Ancient City Wall, the historical relics from the Three Kingdoms, a Folklore Cultural Tour, an Archaeology Tour of the Ancient City Wall and a Historical and Cultural Festivals Tour. Biking around the city wall is also a very popular way to the sights. Attractions like the museum of the city wall, Binyang Building, Bricks with Texts and several gates are popular and well worth visiting.
Add: No.2, Zhangjuzheng Street, Jingzhou District, Jingzhou City
Tel: 0716-8468124
Admission: 50 Yuan/person
Opening Hours: all day from Monday to Friday
Getting there: Bus Nos 103/4/15 pass by the ancient city wall or take a taxi within 20 Yuan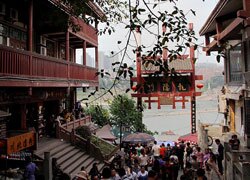 Located on the Jiangling River, 14 km of north Chongqing, Ciqikou Ancient Town was once known as Longyin Town and served as a famous pier for boats navigating the river. It became widely known during the Ming and Qing Dynasty (1368—1840) and although today it is no longer a port, the town is the miniature of Old Chongqing, reflecting folklore culture of Chongqing.
There are in total 12 alleys with buildings from the Ming and Qing periods standing along the street. It is famous for producing quality porcelain. Temples, tea houses and historical sites are everywhere, all telling of the local culture.
Of course food is very important here as it is all over China. The locals like Braised Dried Pieces of Tofu, Fried Dough Twists, Duck Blood in Chili Sauce and Fried Peanut with Spiced Salt. These deliciousness and many more are easy to find. Tea Houses, Temple Fairs and Chuan Opera are main local entertainment. A half day visit is sufficient.
Add: Ciqikou Ancient Town, Shapingba District, Chongqing
Admission: free
Opening Hours: all day
Getting there: Bus Nos 808/503 reach there
Lizhuang Ancient Town in Yibin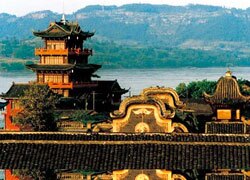 Located along the south bank of the Yangtze River, Lizhuang Ancient Town is well-known for the First Town along the Yangtze River with a history of over 1,460 years. It belongs to Yibin City in Hubei Province. Once it was a small fishing village and during the Han Dynasty there was a stage available. Later in the Ming and Qing Dynasties the town was the hub of water transport for trade.
Now Lizhuang has become one of the most famous ancient towns in China with a huge ancient building complex, reflecting the specialties of temples, palace halls and local residence houses from the Ming and Qing Dynasties in south region of Sichuan. The 18 ancient alleys keep the original appearances of the Ming and Qing Dynasties and stands ancient buildings with elegant wood carvings and stone carvings. Buildings are of high value and Screw Temple (Xuan Luo Temple) impresses many notable architects. Liang Sicheng, a famous Chinese architect, finished some of his far-reaching books there.
Lizhuang also enjoy a high respect from Chinese people since it made great achievement in protecting Chinese culture during the World War 2. Numerous valuable materials and relics were transferred to Lizhuang including many from the Forbidden City. Many famous cultural organizations, some departments of important universities and a lot of literati moved to Lizhuang and continued their studies.
Currently this ancient town is very quiet for most time and walking along the street visitors could see locals chat and kids play. Local dishes are peanuts, white meat and fishes which are well worth trying.
Add: No.1, Wenxing Street, Lizhuang Ancient Town, Yibin City
Admission: free
Opening Hours: all day
Getting there: Take a bus from Yibin South Coach Station at 5 Yuan for about 30 minutes (6:30-19:00) or take a ferry from Yibin to Lizhuang at 5 Yuan
Dachang Ancient Town
Dachang Ancient Town is more than 1,700 years old. Built in the Jin Dynasty(265-420), it is located in the Little Three Gorges Scenic Area of Wushan County and is the only ancient town in the Three Gorges area that is completely preserved. On the Daning River, which is a tributary of the Yangtze River, Dachang is very small with an area of only 24.7 acre (10 hectare) and is called a pocket ancient town by locals.
Dachang was the place of strategic importance and therefore saw numerous battles but amazingly has kept its original appearance. The small town has 3 city gates and several streets dating from the Ming and Qing Dynasties. An old locust tree at the South Gate is over a hundred years old. The ancient buildings and Wen's Courtyard are highlights and mark Dachang's history.
Unfortunately due to the Three Gorges Dam Project, the original site of Dachang Ancient Town was completely covered by water. The whole town was painstakingly moved to a site on Dachang Lake, including the old tree. This incredible feat is a new highlight for visitors traveling to Little Three Gorges.
Add: Wushan County, Chongqing City
Getting there: Take a bus from Wushan Bus Station to Dachang Ancient Town at 20 Yuan
Jiang'an Ancient Town
Jiang'an ancient town in Yibin City is located on a rocky cliff at the confluence of the Yangtze River and the Yu River. The town retains its traditional local style of southern Sichuan. It consists of 4 avenues running east, west, south and north.
The town was first established in 346AD at the East Jin Dynasty and is over 1,600 years old. The ancient city wall, special temples, pavilions and local residences houses stand alongside the river. From the Song Dynasty many poets and calligraphers have marked their presence in Jiang'an by leaving their poem or scripts etched in stone. This ancient town was once the site of the Central Academy of Drama, producing numerous significant directors and actors.
Add: Jiang'an Ancient Town, Jiang'an County, Yibin City
Getting there: Take bus from Yibin South Coach Station to Jiang'an County (6:00-18:30) and the bus departs every 20 minutes.