Nanjing Qinhuai River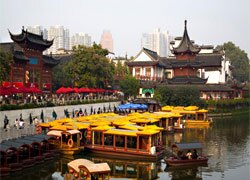 The Qinhuai River is the biggest river in Nanjing. It's also the birthplace of the age-old Nanjing culture. As such, it's called "Nanjing's mother river".
The Qinhuai River has two sources: Baohua Mountain in Jurong County and Dongting Mountain in Lishui County. The water flow from these two sources converges on Fangshan Dam in Jiangning County before splitting into inner and outer river branches outside Dongshuiguan of Nanjing. The inner Qinhuai River runs through the city from the east to the west. Historically called "Ten-Mile Qinhuaihe River", the areas along the river used to be the most thriving places in the city.
Way back in the Six Dynasties, areas near the Qinhuai River and the Confucius Temple were flourishing places. Both banks of the Ten-Mile Qinhuaihe River were home to aristocrats' residences and a magnet for scholars and writers. However, the areas suffered decline for some time after the Sui and Tang dynasties. Prosperity didn't return until the Ming and Qing dynasties, when wealthy merchants re-gathered in the areas lined with pleasure quarters. The river was dotted with sailing barges again. The areas became a beautiful place in the south of the Yangtze River.
The most famous Qinhuai attraction was the lantern boats popular in the Ming Dynasty. At that time, all boats sailing in the river, big and small, had decorative colorful lanterns hanging on the hull. A lantern boat ride was an activity not to be missed by all tourists to the Qinhuai River. Modern Chinese writer Zhu Ziqing vividly portrayed the scene in his famous prose the Qinhuai River in the Oaring Sound and Light Shadow.
The local flavor snacks on offer around the Confucius Temple on the bank of the Qinhuai River are among the top four Chinese snack styles. Restaurants, tea houses and roadside snack stalls are everywhere in the area, which has become a catering center with distinctive Qinhuai flavors.
Night River Cruise on Qinhuai River: General Introduction
Ever since East Wu Period, Qinhuai River had been the most prosperous commercial and residential area in Nanjing. Qinhuai River is a branch of Yangtze River. During the Six Dynasties Period, it was a gathering place of men of letters. The stories about Wuyi Alley, Zhuque Bridge and Taoyedu had been passed down since then. As to the sceneries in Qinhuai, the most famous should be the various gaily-painted Pleasant-boats. As to the historical figures in Qinhuai River, the eight beauties in the late Ming Dynasty should be the most famous. The night river cruise on Qinhuai River offers such an opportunity for visitors to enjoy the both of them.
Travel Tips
The Gaily-painted Pleasant-boat:
Operation Hours: 18:00-23:30
Duration: 50 minutes
Fare: CNY 80
Route: Panchi Wharf- Bailuzhou Park- Qicai Water Street- Dongshuiguan- Zhonghua Gate- The Former Residential Place of Li Xiangjun.