Nanjing Confucius Temple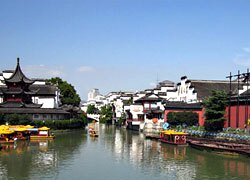 The Confucius Temple (Fuzimiao) was originally built during the Song Dynasty and is situated on the north bank of the Qinhuai River. Today, the entire area around the Temple consists of a series of tourist shops, snack bars, restaurants and entertainment arcades all done up in "Ming" and "Qing" style architecture. There is a vaguely kitsch feeling about the area and the Temple itself is a bit of a disappointment but the area is great fun and a very pleasant part of the city to walk around (the only pedestrianised area in the city). Absorb the relaxed atmosphere, have something to eat and take part in the fun! It is particularly intereConfucius Templesting in the evenings when a lively street market sets up in the district, and locals and tourists take part in the bargain hunting!
The Song Dynasty was a period of great Confucian revivalism and the temple here is considered to be one of the best preserved of its type in China. During the Ming Dynasty the temple was expanded and became a school for children of the imperial court. The buildings on both sides of the Temple which are now small tourist shops were once individual study rooms for Confucian scholars. The QinhuaiRiver flows in front of the Temple and there is also a 110-meter-long screen stonewall (the largest in the nation) nearby, which can be viewed from the bridge crossing the river in front of the Temple. A beautiful 'Lantern Show' is held at the Temple during the 1st to the 18th days of the Lunar Year.