Three Gorge Dam in Yichang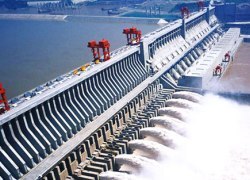 It is 75 years since Dr.SunYat-sen first proposed to launch the Project. Thanks to several decades of extensive scientific research and international cooperation by numerous scientists, scholars and experts of several generations, the extremely complex engineering poser for the construction of the Three Gorges Project (TGP) was finally resolved. These studies provided the scientific basis whereby the National People's Congress passed "The Resolution for the Construction of the Three Gorges Project on the Yangtze River".
The dam site is at Sanduoping,Yichang City, Hubei province. The total catchment area is about 1,000,000 square meters and there is 451,000,000,000 cubic meters of average annual runoff.
At the location of the Sandouping dam site, the river valley is relatively open and broad, with a small islet known as Zhoubaodao in the river, which is favorable for a river diversion scheme with phased construction. As regards communications, there is a railway to Yichang and a waterway to the dam site. A 26 km-long expressway has also been constructed from Yichang to the dam site. The bedrock at the dam site is sound, intact granite with a compressive strength of 100 developed. The rock mass has only very slight permeability.
Highlights of the Dam
The main elements of the project are the dam, two power plants, and the navigation facilities. The spillway dam section is in the center of the river channel, that is, on the original main river course, while the intake and non-overflow sections are arranged on each side. The powerhouses are to be located at the toe of the intake section. The navigation structures are on the left bank.The structure of the project are : Spillway , Left Powerhouse,Right Powerhouse,Ship lift,Temporary Ship lock,Permanent Ship lock,Dam Site. Since the project kicked off December 14,1994, it has attracted the world's attention on it. More and more tourists are coming to see the world's largest water conservancy project. Most passengers just come for enjoying watching this experience and the boat feels and looks something like a toy ship in the hands of a child-in the bathtub during the whole process. Read More about Three Gorges Dam