About Yangtze Gold Cruises
Yangtze Gold Cruises Co. Ltd is invested by Chongqing Tourism Investment Group, counted as the largest and most luxurious five-star cruise ship on Yangtze River. All the gold cruise fleets are equipped with a helipad, golf course and indoor heated swimming pool. Now, Yangtze Gold 1,2,3,5,6, and 7 are available to book. China Gold Cruises is the preferred choice for top luxury vacation.
Why Choose Yangtze Gold Cruises
Boast by the size of every signal bed are up to 1.1*2.0 meters, the widest and most compare other cruise ships. Enjoy your carefree leisure time.
The only cruise fleet set up with helipad.
All cabins has individually balcony, so that tourists can enjoy magnificent landscape of the Yangtze River at anytime.
The largest number of cruise sightseeing elevator on Yangtze River.
Best Value for Presidential Suite - counted as the largest and most luxurious cruise configuration on the Yangtze River, and the room size up to 135 square meters and 183 for private balcony.
2022 Yangtze Gold Cruise Fleets
Add Our WeChat Account to Get Travel Advice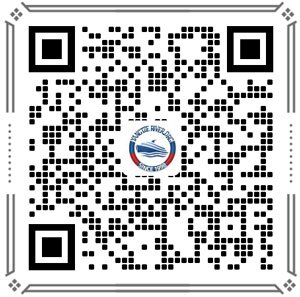 Instant messaging & real-time response: always keeps you engaged, do not waste time waiting for responses.
Efficient communication: gives you an easy way to talk to our tour consultant, and keep those conversations private.
Easy & safe booking: request a tour via WeChat and make purchases in just a few clicks, then get a confirmation within 7 hours.
Inspired by "Wechat Moments": we share lasted travel news and fun things to do in China on WeChat every week.
Stay in touch: for any tour advice, ticket bookings, emergencies, and feedback.
2022 Yangtze Gold Cruises Calender

Cruise Itinerary
Days
Itinerary
Meals
Day 1
Board the ship from 6pm to 8pm and departs Chongqing at night--10pm.(Dinner is not included)
No Meals (suggest to have dinner before boarding)
Day 2

Taichi exercise.

Shore excursion to Fengdu Ghost City (8:00-11:00am).

Captain's Welcome Banquet.

Captain's Welcome Dancing Party in Ball Room.

Breafast, Lunch, Dinner
Day 3

Morning coffee ,and Taiji exercise.

Shore excursion to Shibaozhai Pogoda (Optional, RMB290 p/p).

Passing through Qutang Gorge.

Shore excursion to the Lesser Three Gorges by boat.

Passing through the Wu Gorge.

Guests interactive activity.

Passing through the three Gorge ship locks.

.
Breafast, Lunch, Dinner
Day 4

Shore excursion to the Three Gorges Dam.

passing through Xiling Gorge.

Dismbark at Yichang at 1pm.

Breafast
Onboard Activities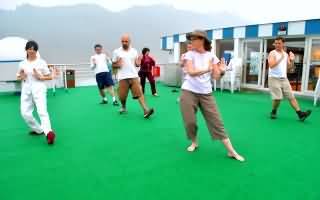 Tai Chi Learning
The Taiji Quan refers to a school or method of boxing or combat. Tai Chi Chuan is a sophisticated method of fighting based on the reconciliation of dynamically interacting forces.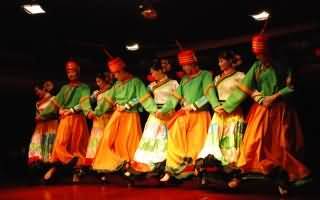 Fashion Shows
As the crew presents some of China's most elaborate fashions dating back to the Han Dynasty (206BC-220AD). A veriety of traditional costumes from all regions of China will reflect China's cultural diversity.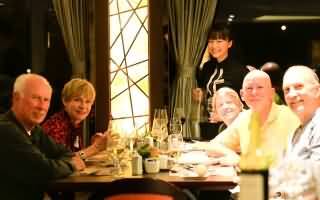 Chinese Lecture
Offering lectures on Chinese history and culture which add insight and depth to the cruise experience. Topics include the evolution of the dam project and its importance to China, Chinese medicine, Chinese language, and Chinese traditional brush painting, dumpling making.
Shore Excursions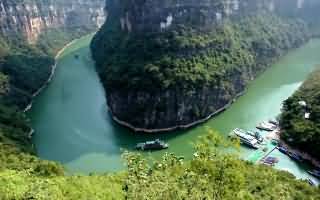 The Lesser Three Gorges are the three separate valleys of the Daning River: Dragon Gate Gorge, Misty Gorge and Emerald Gorge... More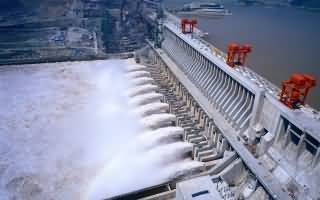 Three Gorges Dam, the largest water conservancy project ever undertaken by man and it has been a dream for several generations of Chinese people...More >>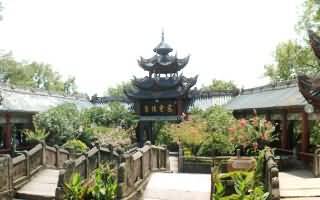 Fengdu is where the devil lives, according to Chinese legend. They say that spirits go to heaven, and evil goes to Fengdu. The town is overlooked by Ming Shan Hill, home of Tianzi, the King of the Dead. More >>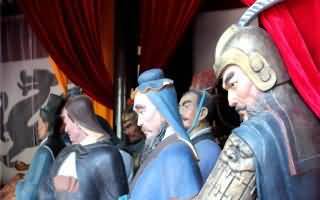 Optional Tour: White Emperor City (RMB290 per person)
It clings to the hills and cliffs of a peninsular jutting out into the river. It is a miniature city of temples and gates on Baidi Hill. The city is well known as "the Poet's City", because it has been visited by many scholars in the past.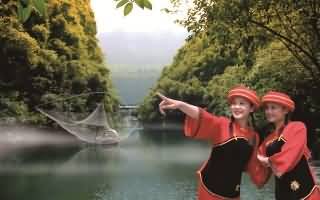 Optional Tour: Three Gorges Tribe Senic Spots (RMB290 per person)
Customers will see the authentic local culture presented at the Village on the Water, the Brook-Side Village, the Mountain Village on the Three-Gorges Tribe Scenic Spot. The area has been officially designated as a "Preservation Center of traditional Culture and Art of the Three Gorges.