Wuhan East Lake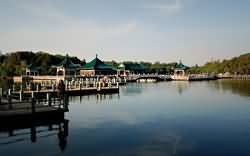 The East Lake, located in the eastern part of Wuhan , is the biggest city lake of China. The scenic area is 73 square kilometers, of which about 33 square kilometers are water surface. It is composed of six tourist districts—Tingtao District, Moshan District, Luohong District, Luoyan District, Chuidi District and Baima District. All these tourists' districts have their own characteristics, and there are many beautiful scenic spots around them. For example, Tingtao District is surrounded by green bamboos and pine trees. It's a good place for enjoying the sounds of pine trees and waves echoing each other.
Although the water level rises in summer and falls in winter, the difference is not big. It is considered as an ideal place for water sports. The scenery is inviting throughout the year. Blessed by the excellent geographic location, the East Lake has rich resources of animals and plants. There are over 30 kinds of birds and about 50 kinds of fresh water fishes. The most famous plants in East Lake are plum blossom, lotus flower and metasequoia. Plum blossom and metasequoia have been respectively named the "city flower" and "city tree" of Wuhan .
Almost every place around the lake is free, except Moshan District, which requires about 40 RMB (about 6 USD), Luoyan District for 10 Yuan/person and Ma'an Shan District for 10 Yuan/person.
Add:NO 1, Donghu Road, Wuchang District, Wuhan City
Opening Hours: 7:00-19:00
Tel:+86-27-86773706
Getting There: Bus NO 22 gets East Lake Scenic Area