Layout of Three Gorges Dam
Spillway
The Three Gorges Project is designed with a concrete gravity dam with a crest elevation of 185 meters and maximum height of 175 meters. The dam axis runs 2, 309. 47 meters long, which is even longer than the noted Grand Coulee Dam of US.
The 483-met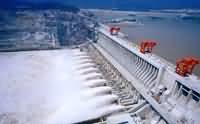 er spillway, located in the middle of the main dam, has 23 bottom outlets dimensioned at 79 meters. Each of its 22 surface sluice gates measures 8 meters wide. The maximum discharge capacity of the TGP is 116,000 cubic meters, the biggest in the world.
Left Powerhouse
Two powerhouses, flanking the spillway, accommodate altogether 26 sets of turbine-generators. As the world's biggest unit ever made, each has a generating capacity of 700MW. The 643.6-meter-long left powerhouse, 60 meters longer than the 584.2-meter-long right one, houses 14 sets of generators. With all these huge generators, the TGP is designed to generate electricity of 84.7 TW/h.
Right Powerhouse
On the right bank, enough room has been preserved for the future underground powerhouse of 6 turbine generator units with 4, 200 MW of installed capacity. The intakes of these units will be constructed simultaneously with the project.
Shiplift
The TGP shiplift is the world's largest. With a one-step vertical hoisting mechanism, the ship lock, equipped with a 120*18*3.5-meter container, is capable of carrying a 3,000-ton passenger liner or cargo boat at a time.
Temporary Ship lock
A temporary ship lock was built during the TGP construction perio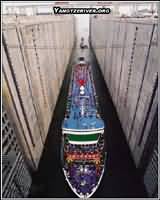 d with an effective chamber at 240*24*4 meters.
Permanent Ship lock
The Three Gorges Project (TGP) permanent ship lock is designed in a two-way, five-step pattern with each lock chamber measuring 280 meters and capable of passing a 10,000-ton barge fleet.
Dam Site
After a long but prudent study on 15 alternatives, the dam site for Three Gorges Project was finally determined at Sandouping, where a number of favorable factors gather at the small town 30 kilometers west to the Yichang city.
Sandoupin has a firm crystalline rock foundation, which is the most important geological condition a massive hydraulic project required of. The River valley here at Sandoupin is much broader than other site alternatives and hills on each sites lower.
A small islet, called Zhongbaodao by locals and cleaving the Yangtze River at its center, offers the most favorable pattern for the river diversion needs scheduled in the first phase of the TGP.
The bedrock of the dam site is sound and intact granite with 100 MPa of compressive strength. The faults and fissures in the bedrock are less developed and most of them are well cemented. The permeability of the rock mass and the weathered layers in the hills on both sides are also ideal.
No potentially devastating geological structures was detected within 15 kilometers of its vicinity. The regional seismic activities are small and not frequent.
Why the Three Gorges Dam was built, please see more deltails, click here.