Three Gorges Dam Site
Where is the Dam Site?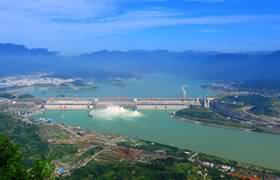 The dam site is at Sandouping, Yichang City, Hubei province. The total catchment area is about 1,000,000 square meters and there is 451,000,000,000 cubic meters of average annual runoff.
At the location of the Sandouping dam site, the river valley is relatively open and broad, with a small islet known as Zhoubaodao in the river, which is favorable for a river diversion scheme with phased construction. As regards communications, there is a railway to Yichang and a waterway to the dam site. A 26 km-long expressway has also been constructed from Yichang to the dam site. The bedrock at the dam site is sound, intact granite with a compressive strength of 100 developed. The rock mass has only very slight permeability.