Nanjing Qixia Temple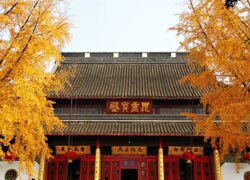 Qixia Temple stands on the west side of Fengxiang Peak, the main peak of Qixia Mountain, Nanjing. It is one of the ancient famous temples in the south of the Yangtze River. It is established in the seventh year (489 A.D.) of Yongming, Southern Qi. Anchoret Ming Cengshao from Pingyuan took his house as the temple and was called "Qixia Diaphanous House" with a history of more than 1500 years. It's one of 480 temples of Nan Dynasty. As there were famous hierarchs in each generation and spread the three theories of Buddhism, it became the ancestry house of the "three theories of Buddhism".
In the walls of 1,000-Buddha mountain ridge a large number of niches can be found together with 515 statues of Buddha. Inside the last niche is the statue of a mason. The pagoda for Buddhist relics in the temple was originally built in the Sui Dynasty. It is an imitation of wooden structure with five stories. There are eight sides on each floor. On the base of the pagoda is a relief sculpture of Buddha, and on the first floor are the sculptures of the four gods and flying Apsaras.
Qixia Temple, full of splendid Buddhism atmosphere, with Yuquan Temple in Hubei, Lingyan Temple in Shangdong, Guoqing Temple in Zhejiang are called "Four Famous Temples" of Buddhism in China. It's provincial cultural relic protection of Nanjing unit now.