Shanghai and Chengdu with Yangtze River Cruise Tour
10-Day of Shanghai, Yichang, Yangtze, Chongqing, Chengdu Tour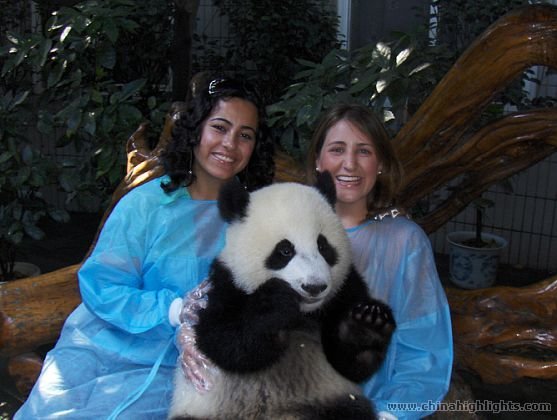 Mixing the modern wonders of Shanghai, a genuine experience with lovely Panda bears in Chengdu and a magical cruise on the Yangtze is definitely a winning combination and you will enjoy this cruise to the very fullest.
Tour Code: cht-wt-04
Departure Date: You Choose!
Inclusions:

Private Guide

Driver

Hotel


Entrance Fees

Aunthenic Chinese Meals
From $1,609 P/P Price detail
Day1
Shanghai Arrival
Attractions:Airport/Train Station/Port to Hotel Transfer

Our guide and will meet at the airport/train station/port upon your arrival and transfer you to your hotel.
This day is reserved for getting in to the city of Shanghai and no other activities are predicted.
Day2
Shanghai
Attractions:The Shanghai World Financial Center,Yuyuan Garden,The Bund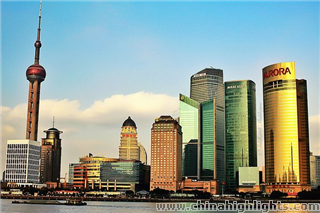 Shanghai International Financial Center
The first stop of this day's tour is the
Shanghai World Financial Centre
. This is one of the tallest skyscrapers in the entire world and it also has the tallest observation platform in the world. It is used for various things so there are some offices, a hotel and an apartment area to be seen. After this you will get to see the
Yuyuan Garden
. This is definitely one of the most beautiful Chinese gardens and it is very close to a lively and busy marketplace where you can shop for souvenirs or try some of the local fast food. Finally, you will get to see
The Bund
. This is a place that is quite different from the rest of the Shanghai since most of the buildings are made in European style. This was once a major trading centre of Shanghai and nowadays it hosts a number of exclusive shops. You will have your lunch at the
Xi's Garden
and that place offers a really spectacular view. Meals: Breakfast and a Chinese lunch
Day3
Shanghai to Yichang to Yangtze
Attractions:Board the ship from 5:00pm to 10:00pm and departs Yichang at night--00:00am.(Dinner is not included)

This day is reserved for transportation from Shanghai to Yichang and then further to Yangtze where you will board your ship for the cruise.
| | |
| --- | --- |
| Meals: | No Meals |
| Hotels: | No |
Day4
Yangtze
Attractions:Passes though the 1st Gorge----Xiling Gorge Shore excursion to Three Gorges Dam Site. Passes though the 5-steps ship locks. Captain's Welcoming Banquet.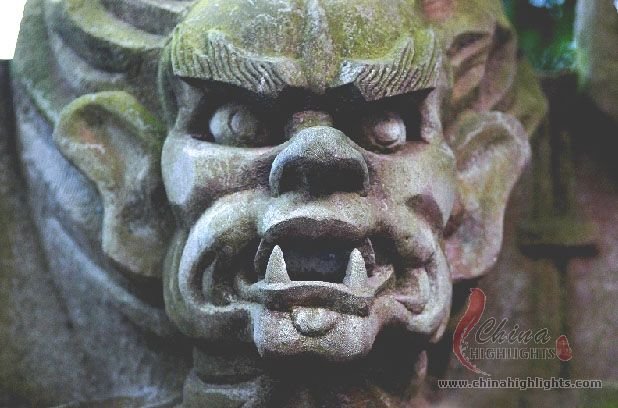 Fengdu
Three Gorges Dam, the largest water conservancy project ever undertaken by man and it has been a dream for several generations of Chinese people. The construction of the dam formally began in 1994. The body of the dam was completed in 2003, and the whole construction has been completed in 2009. It will be 2,335 meters long, 185 meters high, 18 meters wide on the top and 130 meters wide at the bottom.The tourists can get access to the top of the dam and enjoy different kinds of photo opportunities.During this first day on the river you will have the chance to enjoy in a view of the beautiful countryside and besides that there is a visit to
Fengdu Ghost City
predicted. This is a very specific place and it is a true ghost city since there are no people living there and you will only meet those who live of it. Fengdu is a place where the evil go after the death and it is pretty clear that no man would like to live in such a place. Meals: Breakfast and a dinner
| | |
| --- | --- |
| Meals: | Breakfast, dinner |
| Hotels: | On the Ship |
Day5
Yangtze
Attractions:Shore excursion to Shennong Stream(8:00-12:30).You have the option of visiting White Emperor City(RMB260 per person). Passes though the 2nd gorge--Wu gorge. Passes though the 3rd gorge--Qutang. Crew performance.

Shennong Stream is another tributary of the Yangtze River, and its fast-flowing, crystal clear water runs southwards through deep gorges. The stream races past large and small karst caves, flocks of swallows, sheer cliffs, deep gorges, waterfalls, three-colored springs, rapids, the ancient plank path, a suspended coffin in the cliff, groups of ancient tombs and marvelous karst formations.This is the second day of the cruise and you will be able to enjoy many interesting sites along the way but the star of the daily tour is a visit to the
Three Lesser Gorges
. These gorges are not as spectacular or big as those on the Yangtze River but they are teeming with wildlife and you will get to see some really interesting things there. There i9s also an option of visiting the
White Emperor's City
, but the admission fee is not included in the cost of the trip so you will have to pay something extra for it. Meals: Breakfast and a dinner
| | |
| --- | --- |
| Meals: | Breakfast, dinner |
| Hotels: | On the Ship |
Day6
Yangtze
Attractions:Shore excurison to Fengdu Ghost City(8:30am-10:30am). Captain's Farewell Banquet. Talent Show Party in Ballroom.

Fengdu is where the devil lives, according to Chinese legend. They say that spirits go to heaven, and evil goes to Fengdu. The town is overlooked by Ming Shan Hill, home of Tianzi, the King of the Dead. The whole place has an eerie feel to it with deserted streets, tower blocks, empty shops and banks. The only people here are those who make a living from visiting cruise boats.This is the last day of the cruise and you will get to see one of the masterpieces of the human engineering. Namely, the
Three Gorges Dam
is definitely the largest dam ever built by a human hand and it is the source of the pride for the Chinese people. It was built 9 years from 1994 to 2003 and it took 6 more years until 2009 to make it fully operational. You will be allowed to its upper floor and that will provide you with some really nice photographing opportunities. Meals: Breakfast and a dinner
| | |
| --- | --- |
| Meals: | Breakfast, dinner |
| Hotels: | On the Ship |
Day7
Chongqing to Chongqing to Chengdu
Attractions:Arrives in Chongqing at 9:00am.

This day is predicted for transferring from Chongqing to Chengdu by train and no other activities are predicted.
Day8
Chengdu
Attractions:Wu Hou Temple,Jinli Old Street,Panda Breeding and Research Center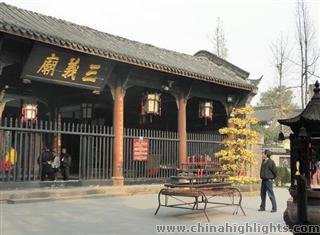 Wuhou Memorial Temple
The first stop of the day is the
Temple of Wu Hou
. This is a lovely place dedicated to the memory of the famous Marquis of Wu. He was a famous general of the Three Kingdoms Period and his name was celebrated in famous poem Romance of Three Kingdoms. The complex consists of a temple and a beautiful garden and there is also a tomb of Emperor Liu Bei within the complex. After that, the tour goes to the
Jinli Old Street
. It was once the economic heart of the kingdoms and it has been fully restored lately so it looks exactly as it once was. There are numerous opportunities for shopping souvenirs and trying local snacks there. The last stop of the day is the
Panda Research and Breeding Centre
where you will see both lesser and Giant pandas in their almost natural environment. This place is unique and there is not even similar experience available anywhere else. If you wish, you can make a reservation for participating in a special program that will allow you to have a direct contact with those marvellous beasts. The lunch will be served at the
Qin Shan Zhai Restaurant
and there are two basic options you can have. They prepare excellent fried dishes as well as the hot pot.
Day9
Chengdu
Attractions:Du Fu Thatched Cottage,Chengdu People's Park,Chunxi Street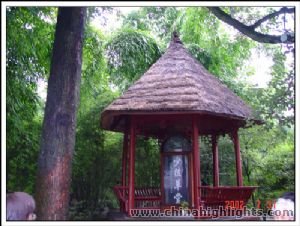 Dufu Cottage
This day begins with a visit to the
Thatched Cottage of Du Fu
. He was a great poet and many consider him the best poet in Chinese history. He lived from 712 to 770 and the five best years he spent in the city of Chengdu on this very spot.
People's Park of Chengdu
is your next stop and it is a very beautiful place that really has something to offer. There are many rockeries, tea houses and ponds and it looks really beautiful and peaceful. There is also a flower festival that is happening there every autumn and if you are lucky enough to be there at that time, you will be able to enjoy some really spectacular sites. The last stop of the day is the
Chunxi Street
. It makes quite a contrast to the previous places as it is very lively and very modern looking street with plenty of opportunities for shopping and visiting various stores. The lunch will be served at the
Morals Village
which offers a truly delicious hot pot. Meals: Breakfast and a lunch
Day10
Chengdu Departure
Attractions:Hotel to Airport/Train Station/Port Transfer

You will be transferred to the airport/train station/port by our private car/van.
This is the day of the departure and no activities are predicted.
Price Per Person in US Dollars
Price Inclusion
Price Exclusion
Entrance Fees to the Scenic Spots as Listed in the Itinerary
Centrally Located Hotels with daily western & Chinese buffet breakfasts
Authentic Chinese Food
Private Cars and Drivers
Private Guides
Flights & Transfers in China
Airport Taxes and Fuel Fees
Service Charge & Government Taxes
Insurance
Luggage Transfers
You May Also Like...