Yunyang Travel Guide
Introduction
Yunyang town is situated on the north bank, 64 kilometers (40 miles) below Wanxian. The handsome ZhangFei Temple is just on the opposite bank. Yunyang is famous the salt industry. The Tang-dynasty poet, Du Fu (712-70) fell ill while traveling through Yunyang and stayed for many months, recuperating and writing poetry.
Local products in Yunyang are various. Tung oil are in large quantity. The same are the goatskin used in treating wooden junks. Peach cake is a must. Its ingredient includes sticky rice, walnut and tutti-frutti. It has a legend that 400 years ago, a businessman from Zhejiang Province brought this tasteful cake.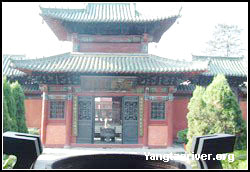 Zhang Fei Temple
The magnificent Zhangfei Temple is just on the opposite bank of the town. Glazing tile and red walls perches are charming on thThe Zhangfei's Temple, Yunyange Flying Phoenix Hill. As to commemorate General Zhang Fei - one of the three sworn blood brothers of the state of Shu during the Three Kingdoms Period, (the other two were Liu Bei and Guan Yu), the temple is a famous historical sites along the Yangtze River.
Due to the flood of 1870, most of the present dates from the late 19th century and has been extensively restored in the last few years. In front of the main hall are giant statues of the three famous sworn blood brothers-Liu Bei, Guan Yu and Zhang Fei. Inside the hall sits the wild-eyed, red-faced Guan Yu; on either side are scenes from his life. The Helpful Wind Pavilion, built 850 years ago, contains steles and huge portraits of the general and his wife. It is said that his spirit, in the form of a helpful wind, frequently assisted passing boats. Junkmen used to stop at the temple to light firecrackers and burn incense in appreciation. Rich collections of paintings, tablets and inscriptions earn it high praises. Moreover, the serial bells of Western Zhou Dynasty, bronze sword of Eastern Zhou in the hall are most interesting. Exhibition of pottery, bronze, porcelain and jade carvings witness the ages. It is well worth a 2 to 4 hour visit.