You are now at:
Home
  >>  Yichang Overview
Yichang Overview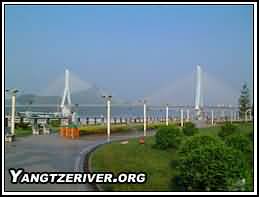 Yichang, the border of upper and middle of Yangtze River, is known as one of the ports and destinations of Yangtze River Cruise and its attraction - Three Gorges Dam.
Geography Location
Yichang lies on the northern bank of Yangtze River, south-west of Hubei province. Covering an area of about 21,000 square kilometers (8,108 square miles), Yichang has totally 5 districts, 3 county-level cities, and 5 counties under its administration.
History and Culture
Yichang is a historical city with 4,000 year. It was named Yiling and its history records could be traced back as early as 278 BC during the Warring States period.
Besides a long history, Yichang has a rich culture. It is the birthplace of the Bashu culture which has mainly generated in the border areas of Sichuan, Shanxi, Hunan, Hubei and Guizhou, with Yichang as the center of generation.
Weather and the Best Time to Travel
Yichang experiences a subtropical humid monsoonal climate with four clear seasons. The average temperature is around 15 C (59 F). Summer is hot, especially in June and July while winter is fairly cold. It is not suitable to travel in these two seasons. However, despite the factor of weather, it is the best time in terms of price. The best time to visit Yichang and take a Yangtze River Cruise is spring and autumn with a pleasant cloudy and sunny weather.
Attractions
The Yangtze River runs through the city of Yichang and creates many natural reserves along its path. The most magnificent one is the Three Gorges Dam which is the world's greatest hydroelectric dam. The three Gorges consist of Qutang Gorge, Wu Gorge and Xiling Gorge. Gezhouba is another landmark of Yichang which located towards the end of the Xiling Gorge.
Yichang also boasts many historical sites and cultural relics such as the former residence of poet Qu Yuan, the former celebrity of concubine Wang Zhaojun and the battlefields of the Three Kingdoms (220-280).
Rivers: Huangbaihe River, Qingjiang River, Juzhanghe River, Yuyanghe River, Jingjiang River and Xiangxi River