You are now at:
Home
  >>  Yichang Food
Yichang Food
Yichang is famous for Yangtze River-Sanxia dishes, best known for their distinctive use of salt and spices.
Special dishes includes the Sanyou Spirit Chicken (Sanyou shenxianji), which is said to be the favorite food of Su Xun, Su Shi and Su Zhe, the best known poets of the Song Dynasty and visitors to SWestern Food Restaurant, Yichang anyou Cave. Xiakou Pearl Soup (Xiakou mingzhu tang), another local specialty, is among the best dishes in Hubei. Also worth trying is the dumpling stuffed with radish (Luobo jiaozi).
Specialities
Fried Turnip Dumpling
The Fried Turnip Dumpling is one of Yichang's most famous flavors, mainly using the raw material of rice,soybean and turnip . It is in shape of a half-moon, golden and slightly brown in color outside, yet aromatic, tasty and tender inside.
Steamed Bingliang Cake
The Steamed Bingliang Cake looks snow-white in color,fine and smooth in appearance.It becomes soft, sticky in the mouth, flavorful to the nose. It is a best summer dessert.
Dingding Cake
There is a special dessert called Dingding Cake. It is made of rice power,glutinous rice power and red sugar, bright in color, sweet and fragrant. It is most favourable to the old people and children.
Cool Shrimp
The cool shrimp, however, is not really shrimp at all. It is something made of rice milk and mixed with red sugar water. It gained its name for its appearance which looks like shrimp swimming in the watCool Shrimp, Yichanger, fragarant and tender, yet tastes cool. It is a best summer drink which will always tempt foreigners for a try.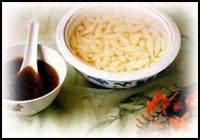 Three Gorges Pearl Soup
The Three Gorges pearl soup is made from the thought of the grand view of the Xiling Gorge. The egg white is made in shape of the mountains and floats on the chicken-soup. There are also fish balls of three colors which represent the pearl float between the mountains and the fish used must be of the variety which are produced in the Nanjingguan belt. It is really a beautiful picture which will please your eye very much and also tasty to the mouth. The fish is tender inside and the soup is fat but not greasy. It has been listed as one of the famous dishes of Hubei style cuisine.
All Food in Yichang
  Xiaomian is one of the favorite breakfasts for Yichang people.It is made of bean and bone soup which is mixed with pig's large intestines, beef, omelets, etc. There are also other kinds of noo...