Yichang Sanyou cave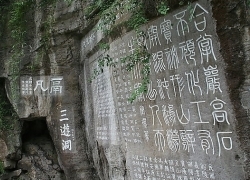 At the northern exit of Xiling Gorge and 10 kilometers from Yichang, Sanyou (literally, "three travelers") Cave, offers possibly the best cave scenery in the Three Gorges region. There are two stories related to the origin of the cave's name. The first "travelers" were three of the Tang Dynasty's most famous literati, Baijuyi, his brother Baixingjian and Yuanzhen. In 819 D.C., Yuanhe 19th year of the Tang Dynasty, the great poet Bai Juyi and his younger brother came cross another great poet Yuan Zhen. The three visited the cave together and they played there for the whole night. They said again and again that there was no place better than this fairy cave. Then Bai Juyi wrote the "Preface" to the cave. Thus the cave gained the name after the three poet travelers. These are the early three visitors. After that the Three-Visitor's Cave spread its beauty.
The "Later Three Tourists" were Su Xun and his sons, Su Shi and Su Zhe of the Song Dynasty, each of whom inscribed a poem on the wall. From then on, the cave had greater reputation.
Highlights of the Cave
Besides numerous writings by famous ancient scholars on the wall of the Three Visitors' Cave, there are some relics on the top of the mountain, such as LiuFengCity, Zhang Fei's battlefield platform. The Ancient Martial Rampart, ChucaiBuilding, the Valley Pavilion and Zhixi Pavilion were rebuilt ones. Climbing up the building and looking to the west, one can take in the scenery of the Xiling Gorge at a glance. Looking to the east, one can get a bird's eye view of the gigantic Gezhouba Dam. Seeing the Yangtze river flow eastwards and water connect with sky, one may easily get the feeling of "pleasure".