Yichang Chexi Folk Custom Scenic Area
With more than its fair share of scenic spots to be enjoyed by tourists, but also equally enjoyed by the locals (ten scenic spots in total), it is no wonder why the Chexi Folk Custom Scenic Area has been declared a National AAAA Attractive Area.
The Chexi Folk Custom Scenic Area should definitely form the gist of any itinerary, especially if unique land formations depicting the beauty of nature at its best is up your alley, and the trip is only around 18 kilometres from the urban district of Yichang City.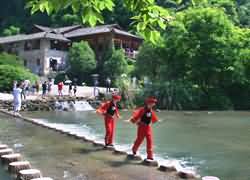 7.5 kilometres of sheer beauty are probably to be explored more than once, since the different times of the day offer a different sort of contrast to the surrounding environment, but the Chexi Folk Custom Scenic Area, in its entirety, is to be enjoyed at any time of the day, any time of the year, with the different seasons offering a totally unique perspective of the various integrated scenes.
Highlights
The total stretch of the scenic area, which covers 7.5 kilometres, is made up of a collection of ten individual "mini scenic spots", each with a life of their own and their own value added to the overall experience, including Shixian Valley (Stone-Fairy Valley), Wangyou Valley, Wind Cave, Three Gorges Folk Culture Village, Farm Museum, Bachu Homeland Garden, Tianlong Grotto, Grotesque Stone Museum, the Former Site of the People's Commune and the Waterwheel Museum.
A total must see is the Three Gorges Folk Custom Village, which essentially adds even more value to the Chexi Folk Custom Scenic Area experience by showcasing the Tujia Nationality folk culture, which is historically synonymous with this region.
The Che Xi is particularly famous for its infinite fortune wheel, well worth checking out as well.
How to Get There
The Chexi Folk Custom Scenic Area is best reached via the Tucheng-bound bus, which travels from the heart of the Yichang district.
In the unlikely event that you are driving there yourself, a quick drive through the Yiling Bridge and then down 318 Road, for about 18 kilometres, will get you there.
Operating Time: 08:00 - 17:00
Entrance Fees: 70 Yuan