Hubei Provincial Museum
Housing a very admirable collection of relics, both on the cultural and historic fronts, the Hubei Provincial Museum, which is located in Wuhan, in the Wuchang District of the Hubei Province, is one of the most well-known museums in China with roots going way back to 1953.
The current name of the Hubei Provincial Museum was formally adopted 1963, after the museum was moved to its current location of the Wuchang District of Wuhan and a collection of new buildings have been added since 1999.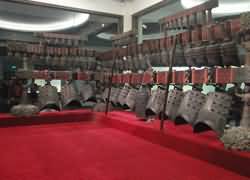 The Hubei Provincial Museum, which forms part of the East Lake scenery, is another one of the National AAAA Level Tourist Attractions, which is suitably justified in a number of ways, one of which is the fact that it houses over 200 000 ancient relics, many of which are forbidden to be exhibited abroad, having been declared national assets for the archeological importance they hold.
Highlights
The 640 first-class cultural relics that have been placed under protection, as well as the 16 national treasures are particular highlights of the Hubei Provincial Museum visit, with sight of the legendary Sword of Goujian something to look forward to.
Other highlights include the Tomb of Marquis Yi of Zeng artifacts, as well as the Bianzhong (bronze bells) and even the tombs of Baoshan.
Leading up to the museum, the magical exterior view under weak lighting lends a special air of expectation that something quite special is about to be experienced with a peek inside and a peek inside is well worth the time.
A total must-see, if you are lucky enough to time your visit in conjunction with it, is the performance with replica instruments of the ancient originals, offering a once-in-a-lifetime chance to see these ancient relics in action, similar to how they were performed with in the days when the original were made.
Generally, a complete experience of the Hubei Provincial Museum would be one comprised out of at least getting to see all three parts, namely the Chime Bells Exhibition Hall, the Chu Culture Exhibition Hall and the Comprehensive Exhibition Building.
How to Get There
There are eight busses to catch en route, namely Bus No. 14, 108, 402, 411, 552, 578, 701 and 709 terminating at Sheng Bo Wu Guan for those heading to the Hubei Provincial Museum.
Address: No 156 Donghu Road, Wuchang District, Wuhan
Opening Hours: every day 9am to 5pm (close on every Sunday for renovation)
Tickets: Free