Wanxian travel guide
Introduction
Wanxian situates at 327 km away from Chongqing and 119 km from Fengjie in waterway. It has long history more than 2,000 years. Wanxian was once an important city in formal Sichuan Province, like Chengdu and Chongqing, and has been known as " a Gateway to Eastern Sichuan"- now part of the newly established provincial class city - Chongqing. And now it is still an important city and port along the Three Gorges areThe Black Dragon Waterfall, Wanxiana for the textile industry, the port and the local produce like oranges, tangerines, peaches, bamboo, lumber. The cruise ships from Chongqing always drop anchors at midnight here in purpose to enter into the Three Gorges at dawn next day. It is an opportunity to visit the night market and buy some local fruits with very low prices. A silk spinning and weaving factory (sometimes not available) and the museum with suspended coffins, an acrobatic show (not as good as the ones in Beijing and Shanghai, of course) are major items on the visit agenda.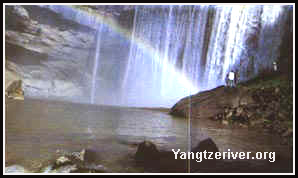 What to see
The open markets, one of the city's ten free markets sells local produce and seasonal delicacies such as mountain mushrooms or live eels. Second Street (Er Main) is the main shopping thorough fare. Shengli Lu is a famous night market where Wanxian rattan and cane are sold. Handmade summer bed mats, fans, hats, straw shoes, furniture and baskets are traded roadside every night. It is a best place for you to gain bargain skills. Also you can have a try on some local snacks like spicy noodles and cooling soybean jelly and fresh fruit.
In 1983 a small workshop was set up to paint and varnish river stones from the Three Gorges and from the DaningRiver's Three Little Gorges. These make attractive mementoes and can be bought at the Arts and Crafts Store, in Third Street (San Malu).
Visitors may also visit silk-weaving and cane-furniture factories.
Other visitor sites include Twin-OsmanthusTemple, West Hill Stele Pavilion, Black Dragon Waterfall, etc.
During the Chinese traditional holiday - Spring Festival, the bright colored boat parade on the street is very popular. And it shows the importance of shipping industry to this city.