How to Get to Three Gorges Dam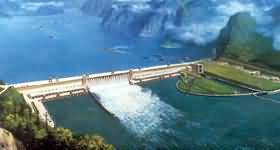 The dam site is 27 miles upstream from YichangCity proper, at SandoupingTown, 38km upstream from the Gezhouba Dam Lock. It is very convinient to get there by ship from the cities along yangtze.
Ship
Most of the ships sail between Chongqing and Yichang, Shashi or Shanghai will stop here for an one-hour shore excursion. The avalibale luxury ships can be checked in the column of Yangtze Cruise.
Bus:
There is an express way conecting the dam site with yichang.
Travellers can take buses from Yichang to the Dam Site.

Why the Three Gorges Dam was built, please see more deltails, click here.