Qibao Town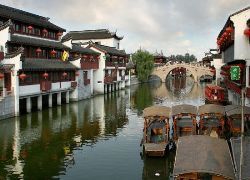 Qibao Ancient Town is located in Qibao County, Minhang District of Shanghai. It gets great reputation as the window of Shanghai's prolonged history of thousand years. Its traditional architecture and great variety of local snacks attracts visitors a lot.
Qibao means 'seven treasures' in Chinese. Qibao Ancient Town was built in Song Dynasty and developed in Ming and Qing Dynasty. It is the nearest ancient water townships to Shanghai which is within one hour drive from city.
The town is divided into two parts - South Street and North Street. A great variety of local snacks could be found in South Street, such as Qibaogao – a kind of cake made from glutinous rice with different flavors, Hebao Dougan - dried bean curd wrapped in lotus leaves, Kaohongshu- roasted sweet potatoes, and Tanghulu- sugar coated haws on sticks. The North Street owes its special of curios, antique calligraphy, antique paintings and tourist souvenirs. There are also some other entertainments such as the biggest indoor ski doom – Yinqixing (Silver Seven Star), Tropical Storm Waterpark with various kinds of Water Entertainment, and Qibao Colorful Glaze Studio with the best glass lost wax casting process.
Travel Information
Location: No.7 Yutang Street,Qibao County, Minhang District, Shanghai
Transportation:
1. Take Subway line 9 and get off at Qibao Station.
2. Take Bus No.803, 513, 87, 91, 92 and get off at Qibao Station.