How to Plan a Century Cruise
Century Cruises is one of the most popular and famous cruises operating on the Yangtze River. This article will provide information to help your decision on whether to choose a Century Cruise for your Yangtze River Cruise.
Highlights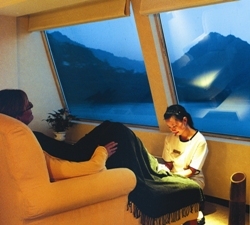 Century Star – The most economical Ship in the Century fleet
All suites have an independent sightseeing hall and all cabins have their own balcony with French Doors;
Managed by Viking Cruises, one of the world's top 10 Cruise Companies for quality service;
Morning coffee service is available for early birds;
The price of downstream cruise is identical to the upstream sailing. The prices of $559 during peak season and $489 during low season save about $70 on Century Cruises of the same level
The Most Advanced Century Cruise Ships—Century Legend and Century Paragon
The 2 sister super 5-star cruise ships and were launched in March, 2013 and are the newest and most advanced cruise ships for passengers desiring a high quality cruise experience;
Ships fitted with the world's newest electric propulsion system for environmental protection, energy saving, shock-absorbing technology and quietness of operation;
Large indoor with consistent-temperature swimming pool and leisure area of over 200 square meters.;
All-glass balcony;
The sleeping area is separated from the entertainment areas;
All cabins is equipped with bathtub, direct drinking water system and independent balcony;
Wi-Fi is available for the whole cruise;
Buffet meals are 24-hour offered and passengers could freely arrange their meal time;
High quality service and advanced equipment at competitive prices of $599 - low season and $669 for the peak season..
Main Ports for Yangtze Cruise Ships
Chongqing - Chongqing Chaotianmen Port is used by Victoria Cruises. During low water periods, ships will dock at Fengdu or Fuling.
Yichang, the main port is Yichang Passenger Port. During low water periods, ships dock at Taohuacun Port.
How to get to Chongqing Chaotianmen Port?
Chongqing Jiangbei Airport is 27 km away from the port and there is no direct public bus. It takes 60 minutes and costs 100 Yuan by taxi from the airport to the port;

There are 2 ways from the Railway Stations to the port:

1.If starting from Chongqingbei Railway Station(Longtousi Railway Station), take Bus 141 and get off at Chaotianmen Station;

2.If starting from Caiyuanba Railway Station, take Bus NOs 122/102 or tourism Bus NO 105 and get off at Chaotianmen Station - 6.94 km.
How to get to Yichang Passenger Port?
Sanxia Airport is 26 km away from the port with no direct public bus between them. It takes 45 minutes and costs 150 Yuan by taxi from the airport to the port;
Yichang East Station, - Yichang Railway Station is 19 km away from the port and no public bus is available. It costs 70 Yuan and takes about 50 minutes taxi to reach the port;
Yichang Coach Station is 19 km away from Yichang Passenger Port. If taking a taxi, 40 minutes and 50 Yuan are needed.