You are now at:
Home
>> Nanjing Food
Nanjing Food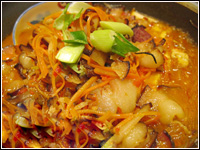 Overview
Nanjing has a relatively wide selection of local, regional Chinese and foreign foods, often at much more reasonable prices than their counterparts in nearby Shanghai. It's an especially great place to sample Jiangsu cuisine , most notably yanshui ya (salted duck), so renowned that it has now become a country-wide favourite. The duck is first pressed and salted, then steeped in brine and baked - the skin should be creamy-coloured and the flesh red anSmoke Meat, Nanjingd tender. Other Jiangsu dishes worth trying incroadde majiang yaopian (pork intestines), jiwei xia (a lake crustacean vaguely resembling a lobster, but much better tasting, locals affirm) and paxiang jiao (a type of vegetable that resembles banana leaves). The best areas of town to sample Jiangsu food are in the north of town, north of Gulou along Zhongyang road and northwest along Zhongshan Bei road.
The presence of a heavy contingent of foreign students in the city, as well as a growing population of expatriate and home-grown business people, ensures a scattering of highly Westernized restaurants and bars , which are not always that expensive. There are, in particular, a number of places around the Nanjing University Foreign Students' Residence that cater to Western palates. Otherwise Xinjiekou and Fuzi Miao are generally good districts to browse for restaurants. For standard Chinese snacks - noodles, Sichuan hotpot, jiaozi and wonton soup - promising areas incroadde Ninghai road, just north from the main entrance of the Normal University, the area just west of Fuzi Miao, and the area immediately southeast of Xinjiekou.
Food and Symbolism
A typical kind of food that represents Nanjing people is the radish which has over the years been spread all over China. According to historical sources, the people of Nanjing have been growing radish since ancient times, especially in the area's southern suburb. Radish has a very sweet and juicy taste during spring.
Radish is highly intertwined in the culture and traditions of Nanjing people. In fact, locals there are sometimes addressed as the 'Nanjing big radish' that means the locals are conservative, passionate and unsophisticated. As far as healthy is concerned, eating radish is widely believed to offset food stodgy taken by people during Spring Festival.
Recomended Restaurants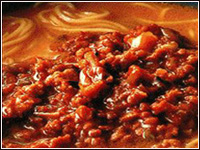 Black Cat, along the first alley to the right west off Hanzhong road after the Guanjia Qiao intersection, near Xinjiekou.
Chaozhou, in the Nanjing Hotel compound on Zhongshan Bei road.
Daniang Shuijiao, in the basement of the Xinjiekou Department Store.
Fatty Cooked Wheaten Food King, Ninghai road right across from the Nanjing Normal University entrance.
Fusheng Yuan, Yunnan road just off Hunan road.
Haitian Ge, 179 Zhongyang road, just north of the Hunan road intersection and opposite Xuanwu Hu.
HefNoodles, Nanjingeng, 75 Zhongshan road, in the Central Hotel. Henry's, 33 Huaqiao road.
Jack's, corner of Jinying road and Shanghai road, directly across from the NanjingUniversity foreign students' dormitory. Jiangsu, 26 Jiankang road, just east of Zhonghua road in Fuzi Miao
Jiaozi Wang, Ninghai road near the intersection with Guangzhou road near the Normal University.
Jinzhu, 204 Zhongshan Bei road, on the north side between Xin Mofan Maroad and the Hunan road traffic circle.
Lao Zhengxing, 119 Gongyuan Jie, near Fuzi Miao. Musilin Noodles, Ninghai road, near Hankou New York, New York, corner of Hunan road and Yunnan road north of Gulou.
Swede and Krau, 137 Ninghai road, upstairs.
Tianyuan Longjuan, Gaolou, one block northeast of Gulou.
Xiao Ren Ren, 97 Gongyuan Jie, in Fuzi Miao.
Yinghua Yuan, Guanjia Qiao, just off Hanzhong road, underground (a staircase from the pavement leads down to it).