Chengdu Travel Tips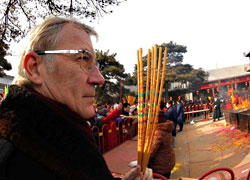 Coming in as the capital and largest city of the southwestern Chinese province of Sichuan, Chengdu's tourist-worthiness is a direct result of a mixture between the thriving local population, due to the city being located right on the cusp of very fertile plains, and the beauty of the land formations on offer.
Weather-wise, Chengdu is generally very pleasant and warm, but a lot of rain falls so it is essential to know when the best time to visit would be and that would be during the spring season, which runs over a three-month period of March to May.
Visitors should always pack an extra pair of warm clothes though, particularly with the very wet weather in mind, since the weather could get a little bit unpredictable at times, although not so much during the spring season.
The trick is to enjoy the beautiful scenery, as it springs into life, as well as to enjoy the most comfortable weather conditions the region depicts, since other seasons, like summer are notoriously uncomfortable with very hot temperatures as well as a lot of monsoon-driven rainfall.
Tourist Patterns
Oddly enough, since the best time to travel to Chengdu, weather-wise is indeed during spring, the peak tourist season is around summertime, but more towards the end of summer when the rain and heat seem to subside, as the season changes over into autumn.
The costs of accommodation and even customized transportation seem to escalate during this peak tourist season, with adjustments being made in relation to just how many tourists are in the area, but visitors can come in for some good savings if making bulk bookings, booking early or visiting during the off-peak seasons.
The ideal time of spring to visit, weather-wise, is fast catching on though, so there is more of an influx of visitors during that period, as time goes by, but the numbers are dynamic and the surge depicts a pattern that suggests it will subside in the near future.
Staying Organized
Transportation : Chengdu is generally a popular tourist area, so transport availability is more than reasonable, especially if your immediate mission is to get into or out of the city, which is achievable by air, train or long distance coach busses, as well as busses from surrounding major areas.
Chengdu Shuangliu International Airport is the main air route node for the city, located just 20 kilometres outside of the inner-city, with busses and trains regularly linking the airport to the city with an impressive frequency.
Local transportation may be affected by the heavy rain season of summer, particularly in the months of July and August, so some extra planning may have to be in order for those who are visiting during that time of year.
Banks and Banking: If you are getting into Chengdu by air, the Chengdu Shuangliu International Airport, which houses a dedicated foreign exchange branch of the Bank of China, is probably the best bet as far as changing over your money goes, otherwise the city is littered with a collection of world class banks, in addition to the Bank of China, such as HSBC.
Otherwise, most of the tourist areas accept the major global credit and debit cards, which would naturally work out cheaper than making use of ATMs that will first have to facilitate a currency conversion and charge withdrawal fees, but one should always be on the look out for fraudulent charges on any credit or debit cards, just as good practice of precaution.
Other Tips
While the locals, especially those in the services sector of Chengdu, do their best to make provision for languages such as English, it is always best to have a translated copy of key venues with you, like your hotel address, since the language can sometimes be a bit of a barrier, even to the well-intending of service providers.