Why Choose Century Cruises
Super Luxury Ships Centruy Lengend and Century Paragon - E-proplusion and rudder propeller systems make for better steerage and less noise and vibration.
24 hours dining service - Dining anytime at your wish.
Large Space Stateroom - All cabins have an area of at least 28 square meters with a glass paneled balcony.
All 5-star ships fleet - All deluxe 5-star ships fleet on the Yangtze River.
VIP Service - The only fleet ships managed by European Hospitality Experts.
Viking partnership and most advanced amenities.
2016 New Century Cruise Fleets
Ship Name
Year of built
Refurbished
Decks
Capacity
Number of
Cabins
Cabin Size
Price from
Itinerary
Century Paragon
2013
/
7
398
186
28-106 m²
$509
CQ=YC
Century Legend
2013
/
7
398
186
28-106 m²
$509
CQ=YC
Century Sun
2006
2011
6
306
153
26-36 m²
$419
CQ=YC
Century Sky
2005
2010
6
306
153
26-36 m²
$419
CQ=YC
Century Star
2003
2005
6
186
93
22-26 m²
$359
CQ=YC

Cruise Itinerary
Days
Itinerary
Meals
Day 1
Board the ship from 6:30pm to 9pm and departs Chongqing at 9:30pm.(Dinner is not included)
No Meals(suggest to have dinner before boarding)
Day 2

Tai Chi exercise.

Optional Tour to Fengdu Ghost City (8am-10am)RMB290p/p

Shore excursion to Shibaozhai (2pm-5pm).

Captain's welcome dinner.

Crew cabaret.

Breafast, Lunch, Dinner
Day 3

Tai Chi exercise.

Take a Sampan boat to visit Shennv Stream.

Optional tour to White Emperor City (RMB290 per person).

Scenic cruising---Qutang Gorge.

Breafast, Lunch, Dinner
Day 4

8am Shore excursion to The Three Gorges Dam Site.

11am Scenic cruising---Xiling Gorge.

Arrive in Yichang at 12:30pm.

Breafast
Onboard Activities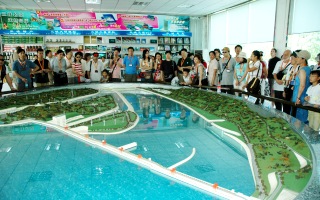 Yangtze Briefing
Every day on broad has a guided talk on board about the Yangtze culture, history, the dam project, visitors will get acknowledge about the Yangtze impacts on the important historical sights you pass, which will get a deep insights on the Yangtze River and its importance.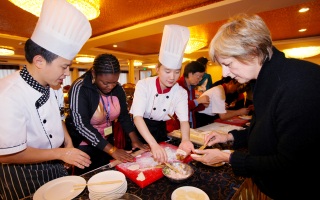 Culture lectures
Century Cruise offer lectures on the evolution of the dam project and its importance to China, the immigration life of the people along the Three gorges, the history of Three Kingdoms, Chinese medicine, Chinese language, Chinese painting and calligraphy, how to make dumplings, etc.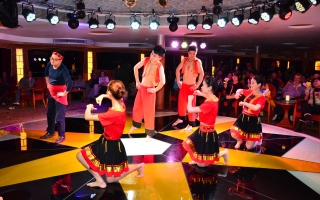 Fantastic Night Life
Enjoy entertainment in the Multipurpose Lounge on the fifth floor every evening, including karaoke, dancing and the Century cabaret, in which both crew and passengers participate. And cabaret show is an opportunity for passengers to display any special talents they may have.
Shore Excursions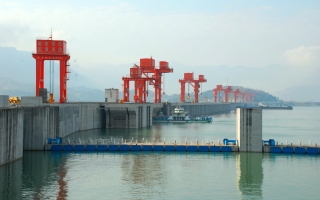 Three Gorges Dam, which is the world largest water and power project, was kicked off on December 14,1994. The total construction period will be 17 years. More Details. More >>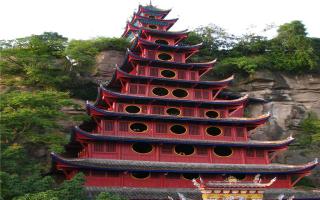 Famed by the wooden architecture complex laid on the mountain edge, and every floor of the wooden structure contains interesting artifacts. More >>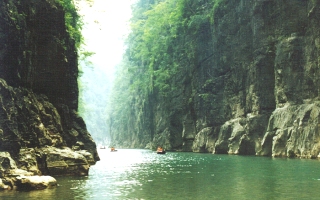 Shennv Stream
Passengers take a wooden flat bottom boat to see the stunning scenery on both sides of the stream. the boats can reach the depths of the valley to see the natural scenery and original life of locals.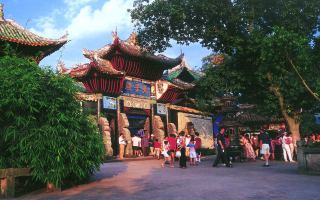 Fengdu is where the devil lives, according to Chinese legend. They say that spirits go to heaven, and evil goes to Fengdu. More >>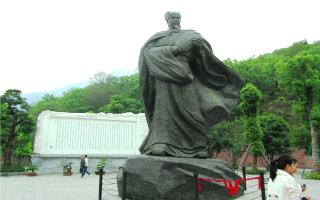 Optional Tour: White Emperor City (RMB290 per person)
It clings to the hills and cliffs of a peninper sular jutting out into the river. It is a miniature city of temples and gates on Baidi Hill. The city is well known as "the Poet's City", because it has been visited by many scholars in the past.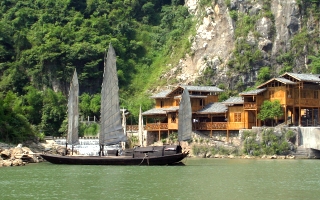 Optional Tour: Three Gorges Tribe Senic Spots (RMB290 per person)
Customers will see the authentic local culture presented at the Village on the Water, the Brook-Side Village, the Mountain Village on the Three-Gorges Tribe Scenic Spot. The area has been officially designated as a "Preservation Center of traditional Culture and Art of the Three Gorges.
How to Plan a Century Cruise
Century Cruises is one of the most popular and famous cruises operating on the Yangtze River. This article will provide information to help your decision on whether to choose a Century Cruise for your Yangtze River Cruise.

Highlights

New high quality fleet! Century Cruises are the only 5-star Yangtze Cruise ships all launched after 2003;
All cabins have an independent balcony! Century Series is the only fleet with all cabins are equipped with an independent balcony to offer a more private space and great river views;
All cruises are equipped with the biggest public area and the largest deck for sunshine sightseeing! It means that every passenger will enjoy more space for leisure and entertainment;
The only cruise fleet awarded Safety and Integrity Cruise Liner by Changjiang Maritime Safety Administration;
The only Yangtze Cruise fleet managed by specialists from European inner river cruises! All cruises service are guaranteed by international quality management;
Unique drinking water system in cabins! This system is fitted in Century Legend, Century Diamond and Century Paragon. The shock-absorbing equipment and noise filter, world-class shipbuilding techniques and new air-conditionings make it a quality choice;
It is the only river cruise fleet in the world that has a transparent hall, 6-stories tall from the basement to the roof top;
Century was the pioneer among the river cruise operators using transparent panorama lifts, which enable passengers to enjoy the river view from a different angle;
The worlds' most comfortable well designed and large big cabins of any inner river cruise;
Employing Hilton Hotel standard configuration or beddings and bathroom supplies;
Century Paragon and Century Legend were newly launched in 2013;

Century Star – The most economical Ship in the Century fleet

1.All suites have an independent sightseeing hall and all cabins have their own balcony with French Doors;
2.Two dining halls - buffet dining hall and A la carte restaurant;
3.The most luxury Victoria Cruise ship with 4 lifts;
4.Special service for passengers on deck 3 or above - free internet, free coffee, tea and choice of 2 dining halls;
The price of downstream cruise is identical to the upstream sailing. The prices of $449 during peak season and $379 during low season save about $70 on Century Cruises of the same level;