Victoria Sophia
Only ship sailing between Chongqing and Shanghai – The only ship sailing to Shanghai, Nanjing, Huangshan, Wuhan, Yichang, Three Gorges Dam, Three Gorges, Fengdu and Chongqing.
Customer request Superior Cabin upgraded to the executive deck just pay more USD$115 per person,that you will enjoy the VIP service:
Price Details
Buy now – avoid price rises! We now offer instant online bookings.
Choose

for instant confirmed booking and get a FREE upgrade to a higher deck. Click Pay Now to choose your suitable cruise and buy it online.

Notes:
Because of new Yangtze navigation regulations, the Victoria Sophia will not be permitted to sail to or from Shanghai. For this matter, the Victoria cruise company still negotiations with the Transportation Department to permit them to receive a waiver of this regulation for at least 2016, but cancel the trip from 2017 for sure. We will keep loading the latest news if any changes.
Passengers boarding the Victoria Sophia cruising between Chongqing and Shanghai are required to pay $48/RMB 300 per person as service charge. The customers cruising between Chongqing and Wuhan, Wuhan and Shanghai are required to pay $24/RMB 150 per person. The service charge is payable at the time of boarding.Customer request a specific cabin need an additional fee (RMB330-RMB660) based on the floor of ship.
Cruise price are higher on the Chinese National Holiday of 30th Sep to 7th Oct. Should ask our travel consultant for detail price.
Price Inclusion
Entrance fees:The land excursions listed in the itinerary.
Meals: The daily meals on the ship.
Room: A berth in the cabin as specified in the itinerary. Overnight accommodation for morning departure (except Victoria sailing from Chongqing to Shanghai).
Credit card processing fee & Government Taxes.
Price Exclusion
Transfers: Between airport/hotel and cruise terminal in Chongqing/Yichang/Shanghai.
Single Room Supplement.
US$23/RMB150 per person as mandatory service tip should be paid onbaord. Cruise between Chongqing and Shanghai should be paid $48/RMB 300 per person.
Personal Expenses: Expenses of a purely personal nature such as laundry, drinks, fax, telephone call, optional activities, sightseeing or meals which are not included in the itinerary.
Cruise Itinerary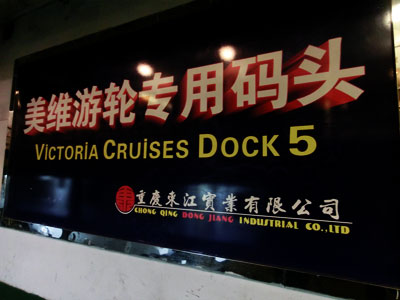 DAY 1
18:00 - 20:30 Embarkation at Chao Tian Men Dock #5 21:00 Set sail from Chongqing 21:15 Safety briefing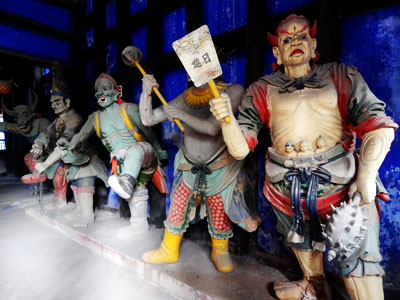 DAY 2
06:30 - 07:00 Early Bird Coffee and Tea 06:30 - 07:00 Practice Tai Chi 07:00 - 08:30 Breakfast (Buffet) 09:00 - 11:30 Additional Shore excursion---Fengdu(295 RMB p.p) 09:30 - 11:30 Activities 12:00 - 13:30 Lunch (Buffet) 16:00 - 18:00 Shore excursion---Shibaozhai 18:15 - 19:00 Captain's Welcome Reception 19:00 - 20:30 Dinner (Buffet) 21:00 Minorities and Dynasty Costumes Show

DAY 3
06:30 - 07:00 Practice Tai Chi 07:00 - 08:30 Breakfast (Buffet) 07:30 - 10:15 Additional Shore excursion---White Emperor City(295 RMB p.p) 10:45 (Est.) Sailing through Qutang Gorge 9:00 - 10:30 Activities 12:45 (Est.) Scenic cruising---Wu Gorge 12:00 - 13:00 Lunch (Buffet) 15:15 - 18:15 Shore excursion--- Goddess Stream 19:00 - 20:30 Captain's Farewell Banquet 18:30 - 23:00 Settle accounts 21:00 - 21:45 Crew cabaret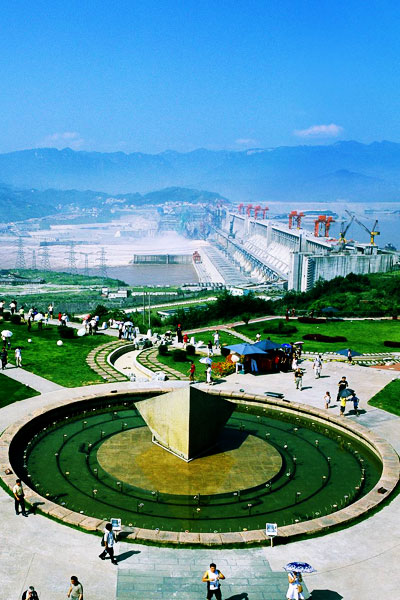 DAY 4
07:00 - 08:00 Breakfast (Buffet) 08:15 - 09:30 Disembark and board a smaller boat through the ship lock with a ship lift 09:30(Est.) Shore excursion---Three Gorges Dam Site 11:30(Est.) Take a coach to Yichang 12:30 (Est.) Arrive Yichang cruise terminal and end the tour. Tips: Check out and leave your luggage on the reception desk, the passengers can pay RMB 25 per luggage to transfer the luggages from Maoping pier to Yichang cruise terminal!