World Heritages & Southern China Discovery
15-Day of Shanghai, Kunming, Shangri la, Lijiang, Chengdu, Emeishan, Xian, Beijing Tour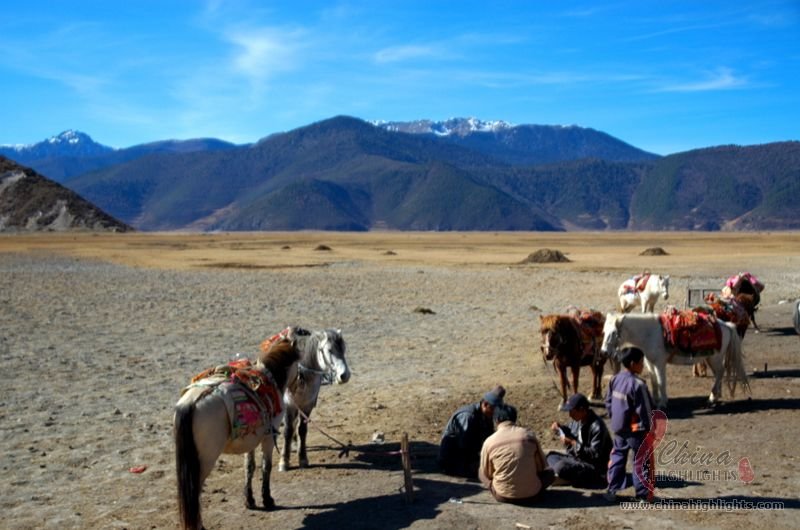 Visit the world heritages in the ancient capital cities - Beijing and Xi'an. See the Forbidden City and the Entombed Warriors. The cultural and natural heritages of the Three Parallel Rivers of Yunnan Protected Areas and Mount Emei will top off the Southern China discovery.
Tour Code: cht-wh-08
Departure Date: You Choose!
Inclusions:

Private Guide

Driver

Hotel


Entrance Fees

Aunthenic Chinese Meals
From $3,699 P/P Price detail
Day1
Shanghai Arrival
Attractions:Airport/Train Station/Port to Hotel Transfer

Our guide and will meet at the airport/train station/port upon your arrival and transfer you to your hotel.
Day2
Shanghai
Attractions:Yuyuan Garden,Yuyuan Market,Shanghai Urban Planning Exhibition Hall,The Shanghai World Financial Center,The Bund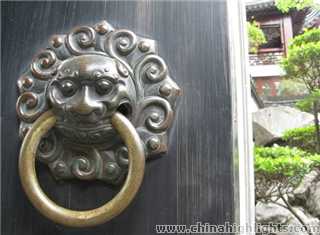 Yuyuan Garden
-
Yuyuan Garden
: Yuyuan Garden is located in the center of Shanghai old quarters. It was a private garden built in 1559 during the Ming Dynasty, with typical Chinese classic architecture and style. The complex covers an area of 2 hectares, with rockeries, pavilions, ponds and corridors. Yuyuan Garden is surrounding by a busy market place, where visitors can find everything from popular local snacks, handicrafts, antiques and souvenirs to some famous time-honored restaurants.
-
Yuyuan Market
: Located next to the Yuyuan Garden and also known today as the City God Temple, it was built in the fifteenth century during the Ming Dynasty. The City God Temple is a Taoist temple which is composed of many halls such as the Grand Hall, Middle Hall, Bedroom Palace, Star Gods Hall and etc. The City God Temple has a great influence on the residents of Shanghai. The religious festivals of the temple are considered to be the festivals for all Shanghai people.
-
Shanghai Urban Planning Exhibition Hall
: A short walk across Renmin Square from the Shanghai Museum, this is a fascinating insight into Shanghai's future. The 2nd floor has a giant walkaround model of the city, and other floors have great displays, interactive exhibitions and walkthroughs of aspects such as the ports, greening, leisure etc.
-
The Shanghai World Financial Center
: Shanghai World Financial Center is located in Pudong District, reaching a height of 492 meters (1,615 feet). It is now a new landmark of prosperous Shanghai. It was the second tallest building in the world when it was completed in 2007. Its observation deck, at 474 meters (1,555 feet) above the ground, is currently the tallest in the world. The multi-function skyscraper consists of hotels, apartments, restaurants, shopping malls, offices and observation decks.
-
The Bund
: This 1.5-kilometer-long embankment runs along the western bank of Huangpu River. On its west side it is the "architecture gallery" with 52 well-preserved old European style buildings. Once the major trading and commercial center of old Shanghai, the Bund has now taken on new vitality, with futuristic developments, chic restaurants, top end shops and bars offer plenty to see and do-and by night it's magic!
-
Home's Restaurant
: Home's Restaurant is located near the Nanjing Road. It specializes in Shanghai cuisine using the best local ingredients. Smoked fish and red jujube with sticky rice are well known in Shanghai. The restaurant enjoys a great reputation with diners from many parts of China and abroad.
Day3
Shanghai to Kunming by Flight.
Attractions:Former French Concession Precinct,Xintiandi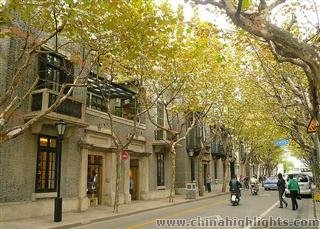 French Concession
-
French concession region
: A great area to explore, from the old European buildings in shady avenues to the cafes and restaurants and upmarket shopping area of Huaihu Lu.
-
Xintiandi
: Xintiandi is nestled between the towering skyscrapers in city center. It is one of the busiest urban tourist attractions and imbued with the city's historical and cultural legacies. Shanghai Xintiandi's Shikumen building was created by converting traditional residential blocks into a multifunctional dining, retailing and entertainment center flowing with restaurants, boutiques, cafes and bars of international standard.
-
Seagull Palace
: Seagull Palace is located along the Huangpu River. The main building is in shape of a huge seagull, and is one of the signature buildings in Shanghai. It serves a Shanghai-Style food and is decorated in a western style.
Day4
Kunming
Attractions:The Stone Forest,Green Lake Park

The Stone Forest
-
The Stone Forest
: A fantastic natural phenomena located 90 km southeast of Kunming. The various shapes of karst landscape was formed due to millions of years' movement of Earth. The Stone Forest area is the home of the Sani people, their folk customs has become one spectacular scene, the colorful embroidery and minority dances combine with the natural sceneries, which will surely leave you a deep impression.
-
Green Lake Park
: Located just opposite Yunnan University, it is one of the most picturesque parks in downtown Kunming. There are nine spring outlets at north of the lake, so it was also named "Nine Dragon Pond" in ancient times. Here you may take a leisure walk or enjoy the performance (playing Taiji, Mahjong and local operal) by local people. In November and December every winter, huge flocks of red-beaked gulls migrate there from Siberia, constructing a nice scene.
-
Chinese Restaurant of Stone Forest Ashima Hotel
: Situated by the entrance to Stone Forest landscaped area, the restaurant is famous for its roast duck.
Day5
Kunming to Shangri La by Flight.
Attractions:Pudacuo National Park,Songzanlin Lamasery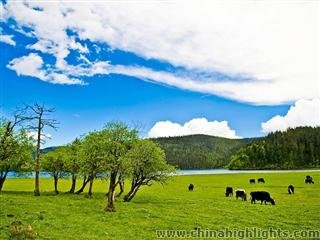 Shangri-La
-
Pudacuo National Park
: Located near Shangri-La in China's Yunnan Province in southwest China, the Pudacuo National Park covers a total area of nearly 2,000 square kilometers. This park has an average altitude of 3,500 meters and retains a well-preserved ecosystem within the virgin forests. The must-see scenery in this park includes Lake Bita and Lake Shudu. "Bita" means "a place with a dense oak forest" in the Tibetan language and "Bitahai" means a quiet lake. The Bitahai Lake is surrounded by mountains covered with ancient pines, oaks and rhododendrons, and appears like an emerald in the heart of the mountain. Shudu Lake is located in northeast of Shangri-la and it is one of the largest fresh water lakes on the Diqing plateau. The lake is surrounded by a forest of fir, spruce and silver birch, and is home to lots of wild animals such as bears, golden cats, deer and pheasants.
-
Songzanlin Lamasery
: The largest Tibetan Buddhist lamasery in Yunnan Province. Occupying an area of 33.3 hectares, Songzanlin was built in the style of Potala Palace in Lhasa and represents the Tibetan culture, housing buddhist statues and many precious cultural treasures.
Day6
Lijiang
Attractions:First Bend of the Yangtze River,Tiger Leaping Gorge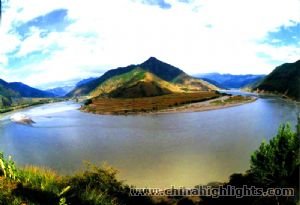 The First Bend of the Yangtze River
-
Tiger Leaping Gorge Restaurant
: Seating at Tiger Leaping Gorge Restaurant gives a great scenery and the town of Tiger Leaping Gorge. The 130 seat restaurant serves local dishes and provides a fantastic opportunity to enjoy the landscape while dining.
-
First Bend of the Yangtze River
: Surrounded by rivers and mountains and with an altitude of 1850 meters above sea level, the First Bay of the Yangtze has picturesque scenery. Besides, it is an important ferry that joints the inland and the old road for the trade of tea and horses in Tibet.
-
Tiger Leaping Gorge
: As one of the deepest and most marvelous gorges, Tiger Leaping Gorges are located in Hutiaoxia Town, 105 kilometers away from Zhongdian/Shangri-La County. Spring is the best time to visit, as melting snow flowing down from mountains makes the river turbulence at its peak.
Day7
Lijiang to Chengdu by Flight.
Attractions:The Jade Dragon Mountain (with Large Cable Car from Ganhaizi),Baisha Murals at Baisha Village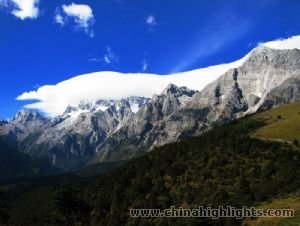 Jade Dragon Snow Mountain
-
The Jade Dragon Mountain (with Large Cable Car from Ganhaizi)
: It's a snow capped mountain with an altitude of 5596 meters above sea level. The mountain has 13 peaks of which the highest is 18000 feet above sea level. Its high mountain and meadow views setting off the snow and rivers, construct amazing picture.
You could take the Large Cable Car on the top of Jade Dragon Mountain (from Ganhaizi) and enjoy yourself. The cable car will take you up to a height of 4506 meters. Walk slowly until you get used to the altitude. A warm coat is advisable and eating snacks often help the body to adjust more quickly.
-
Baisha Murals at Baisha Village
: Painted over a thousand years ago, the murals combine the cultures of Han, Tibetan and Naxi people displaying the life stories of the Tibet Buddhism, Confucian and Taoism.
-
Baisha Shiguang Restaurant
: The restaurant is located in Baisha Village and provides mainly Naxi cuisine along with some Chinese dishes.
Day8
Chengdu
Attractions:Du Fu Thatched Cottage,Panda Breeding and Research Center,Wu Hou Temple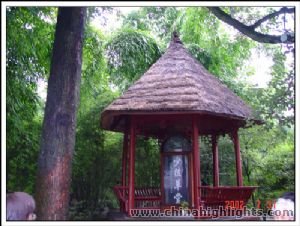 Dufu Cottage
-
Du Fu Thatched Cottage
: A museum and memorial for Du Fu (712-770 AD), often called China's greatest poet, surrounded by a large and beautiful garden. Du Fu spent five years in Chengdu, the peak of his creativity, living in a thatched hut on this site.
-
Panda Breeding and Research Center
: Home to giant pandas, red (or lesser) pandas, and other endangered species. Visit the nursery to see the highly successful breeding program, bamboo groves and shady walkways, to view the pandas at rest and play. There's a wealth of information and a panda museum in this 230-hectare park 10 km (6 miles) north of Chengdu.
Note: The Panda Breeding and Research Center has a donation program which allows you take pictures with holding an adult panda by donating RMB500 or holding a baby panda by donating RMB1000. This program is subject to the availability of pandas on that day. Please bring RMB cash as they don't accept credit cards.
-
Wu Hou Temple
: The Marquis of Wu, Zhuge Liang (181-234) was the outstanding military strategist immortalized in "The Romance of the Three Kingdoms" and in the saying wise as "the Marquis of Wu". Peaceful and attractive gardens surround several halls, including one dedicated to his memory and another to that of his emperor Liu Bei, some impressive statues, a small museum, a famous Tang Dynasty stele and the classic red wall leading to Liu Bei's tomb. A delightful complex.
-
Sanguyuan Restaurant
: It's the place where you can enjoy not only the wonderful dishes but the culture of Three Kingdoms. Each dish has a name related with Three Kingdoms.
Day9
Emeishan
Attractions:Leshan Giant Buddha,Cruise to have a overlook at Leshan Giant Buddha,Baoguo monastery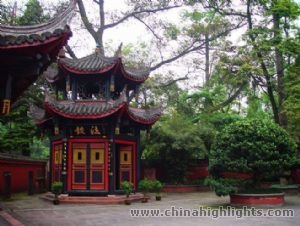 The Baoguo Monastery
-
Leshan Giant Buddha
: The Great Buddha in Leshan is located to the east of Leshan City, Sichuan Province and on the Lingyun Mountain where Min River, Qingyi River and Dadu River meet. It has been the largest stone carved sitting Buddhist statue in the world so far.
-
Cruise to have a overlook at Leshan Giant Buddha
: The Great Buddha in Leshan is located to the east of Leshan City, Sichuan Province and on the Lingyun Mountain where Min River, Qingyi River and Dadu River meet. It has been the largest stone carved sitting Buddhist statue in the world so far.You can sit on board to have an overlook at Leshan Giant Buddha.
-
Baoguo monastery
: This monastery was built in the 16th century, enlarged in the 17th century, and rebuilt in recent years. To the left of the gate is a rockery for potted miniature trees and rare plants.
Day10
Chengdu
Attractions:Cable Car leading to Monastery of Ten Thousand Years,Emei Mountain ,Monastery of Ten Thousand Years

-
Emei Mountain
: One of the most famous mountains for Buddhism in China. It has many temples and beautiful scenery.Baoguo Temple lies right at the foot of Mt. Emei.
-
Monastery of Ten Thousand Years
: 1,043 meters above sea level, was built in the 4th century. It was burned several times in the following centuries. The present brick building was reconstructed in the Ming dynasty (1368-1644). The Brick Hall, a domed building with small stupas on it, was built of bricks. In the hall is a statue of the Bodhisattva. Puxian on a white elephant, 8.5 meters high, cast in copper and bronze. It weight is estimated 62 tons. And this statu was here in 980AD.
-
Cable Car leading to Monastery of Ten Thousand Years
: The Wannian Monastery is the largest of the eight monasteries to be found on Mount Emei. It is dedicated to Bodhisattva Puxian who famous for his preaching.
Day11
Chengdu to Xian by Flight.
Attractions:Shaanxi History Museum,Ancient City Wall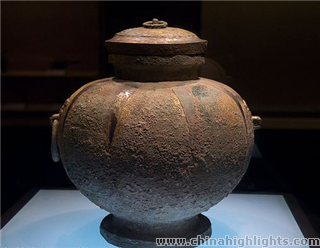 Shaanxi History Museum
-
Shaanxi History Museum
: The history of Shaanxi is said to be the history of China, and this museum is quite simply one of the nation's best. Four major galleries in large, Tang-style buildings house a vast and impressive collection, beautifully displayed. Most of the item labels are in English, although some other information on the exhibitions is not, but your guide can help here. Wear comfortable walking shoes.
-
Ancient City Wall
: The walls, ramparts, gates and watchtowers form one of the oldest and most complete city defenses still around. Built in the 13th century on the foundations of the original Tang Forbidden City, it s surrounding the city centre. You can walk or pay extra cost to rent a bike (CNY40 per person), rickshaw (CNY45 per person for 45 minutes) or an electric cart (CNY40 per person) around the full 14km circuit, with great views of the city on either side. If the weather is not good for biking on the city wall, we will substitute a visit to the Bell Tower. Your guide will be very glad to take you the Bell Tower after you have been to look at the city wall.
-
Guohua Restaurant
: Located near Big Wild Goose Pagoda, the restaurant serves Cantonese food and is famous for its sea food. The restaurant is nicely decorated, and is a long established restaurant popular with the locals.
Day12
Xian to Beijing by Flight.
Attractions:The Terracotta Warriors and Horses,Big Wild Goose Pagoda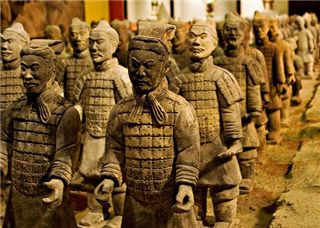 Terracotta Warriors & Horses
-
The Terracotta Warriors and Horses
: Discovered accidentally in 1974, this incredible army of over 7000 soldiers, archers, horses and chariots in full battle array has guarded Emperor Qin's tomb since 210BC. Each figure is unique, and the painstaking repair and excavation continues in 3 pits which are protected inside huge hangars. 1.5 hours from Xian, there is also an excellent museum and film about the history of the vaults. Photos (no flash) are allowed. Wear comfortable walking shoes.
-
Big Wild Goose Pagoda
: A major Buddhist site, the simple, elegant brick Pagoda stands in the grounds of the attractive Da Ci'en Temple. The Pagoda was built in the 7th century to house the Buddhist materials that Xuanzang (Tripitaka) brought back from his epic journey to India. The Temple complex has several large halls with some great Buddhist statues and murals.
-
A Wa Shan Zhai Restaurant(Qinling Branch)
: A Wa Shan Zhai Restaurant was established in 2004, mainly specializes in Hunan and Sichuan cuisine. It provides delicacy by using the material from Shanxi, obtaining a nationwide reputation from customers. It would be a nice choice to dine while traveling the nearby Terra cotta Warriors and Horses.
Day13
Beijing
Attractions:Temple of Heaven,The Mutianyu Great Wall(with round way cable car)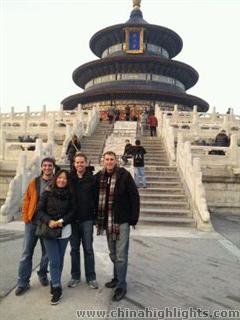 Temple of Heaven
-
Temple of Heaven
: Built in 1420 during the Ming Dynasty, Temple of Heaven is a complex of Taoist buildings where emperors of Ming and Qing dynasties visited for annual ceremonies of pray for good harvests. Located in the south of Central Beijing, it covers an area of 273 hectares. Temple of Heaven was enrolled as a World Heritage Site by UNESCO in 1998.
-
The Mutianyu Great Wall(with round way cable car)
: This less-crowded section of the Great Wall is a about 2.5 hours' drive from downtown Beijing. A cable car takes you to a good section (avoiding a very steep climb), where you can walk along the wall, through the watch towers and enjoy superb views as it snakes across the hills and mountains. You can return by cable car, walk down or walk along the wall for about an hour to descend by chairlift. Wear good walking shoes and protection from the weather.
-
Xin Shuang Quan Restaurant
: Xin Shuang Quan Restaurant is near Great Wall of Mutianyu section. This garden style restaurant serves farmhouse dishes, specializing in rainbow trout, sturgeon and salmon. The fabulous taste will leave you with great memories.
Day14
Beijing
Attractions:Tiananmen Square,The Forbidden City,Hutong Tour in Xicheng District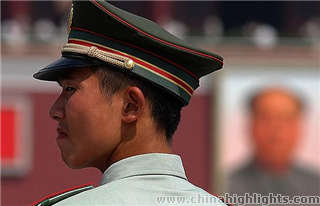 Tian'anmen Square
-
Tiananmen Square
: Tian'anmen Square is the largest city square in the centre of Beijing, named after the Tiananmen (literally, Gate of Heavenly Peace) which sits to its north, separating it from the Forbidden City. It has great cultural significance as it was the site of several key events in Chinese history. As the world's largest city square and enduring symbol of China's national pride, it is surrounded by many imposing buildings including the Heavenly Gate (entry to the Forbidden City), Museums, government buildings and Chairman Mao's Mausoleum.
-
The Forbidden City
: The Forbidden City was home to 24 emperors between 1368 and 1911.This "city within a city" is a World Heritage Site, and is the largest and the best preserved ancient imperial architecture complex in the world, with great square, halls and gates contrast with intricate halls, gardens, courtyards and quarters. The exhibitions, both permanent and temporary, are all important treasures of ancient China.
-
Hutong Tour in Xicheng District
: Hutong is a maze of historic alleyways with old single storey traditional courtyard houses, which are now fast disappearing. In this one hour tour, you can hop on a rickshaw to ride through the narrow alleys as well as visit a local family then walk on the Silver Ingot Bridge (Yinding Bridge) and find out about the different thresholds of the courtyards.
-
Jing Mian Da Wang Restaurant (Di'anmen Branch)
: This restaurant of typical Chinese style, it serves authentic dishes of Old Beijing fare - hand-pulled noodles, cold dishes, snack foods and more. Having the taste of the tasty noodles, usually eaten with a thick sesame and soy-based sauce.
Day15
Beijing Departure
Attractions:Hotel to Airport/Train Station/Port Transfer,Summer Palace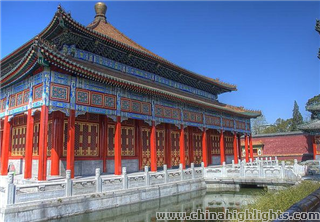 Summer Palace
You will be transferred to the airport/train station/port by our private car/van.
-
Summer Palace
: Much-loved summer retreat of the Imperial families, the lovely landscaped gardens, halls, pavilions and corridors are set around the lake and rivers in natural harmony. It is the largest and best preserved imperial garden in China, and also a World Heritage Site.
-
Hancang Hakka Restaurant
: Hancang Hakka Restaurant is conveniently located on the east bank of Shicha Hai Lake and has a traditional Chinese environment and culture. It serves the very popular cuisine of the Hakka minority group.
| | |
| --- | --- |
| Meals: | Breakfast, Chinese Lunch at Hancang Hakka Restaurant |
Price Per Person in US Dollars
Price Inclusion
Price Exclusion
Entrance Fees to the Scenic Spots as Listed in the Itinerary
Centrally Located Hotels with daily western & Chinese buffet breakfasts
Authentic Chinese Food
Private Cars and Drivers
Private Guides
Flights & Transfers in China
Airport Taxes and Fuel Fees
Service Charge & Government Taxes
Insurance
Luggage Transfers
You May Also Like...