President Prime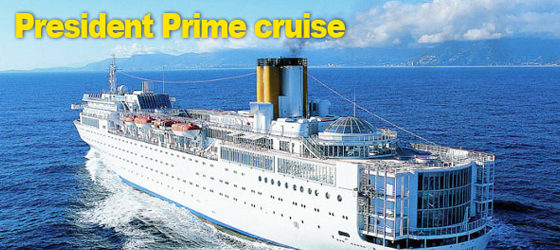 Customer's reviews:

4.7

out of 5

112

Customers have booked it in 2012.
Cruise Itinerary: ChongqingYichang
Hot FAQ:
Cruise Facts
| | |
| --- | --- |
| Star Rating: | 5 |
| Maiden Voyage: | 2011 |
| Accommodates: | 374 |
| Length in m (ft): | 135 (443) |
| Width in m (ft): | 19.6 (64) |
Why Choose:
Low price guarantee

--Compare us! We offer the lowest price with saving of up to $69 on our competitors with the same product.

Best sales

--So far 426 customers has booked this ship

VIP service

--Our customers receive complementary fruit on boarding the ship.

Offers the best value for money

of all the 5 deluxe cruises at only $455 for Deluxe Balcony Cabin.
About Cruise President Prime
Launched in April 2011, the President Prime became the flag-ship of President Fleet Cruises. A 5 star deluxe cruise ship, President Prime features both deluxe classical European styling and modern comfort.
The ship has a capacity of 374 passengers in total 187 cabins, made up of 2 President Suites, 2 deluxe suites, 32 Deluxe Executive cabins and 151 deluxe standard cabins. Its facilities include a viewing tower, a library, a sundeck, bar and coffee shop, sauna, beauty salon, gift shop, satellite communication systems, in-house movie theater, and a clinic with massage service.
All cabins have one bedroom and a private bathroom with a shower or bathtub and a private balcony. The cabins contain satellite TV that receives HBO and CNN, a satellite telephone, scales, a hair dryer, toiletries, mineral water, a bathrobe and slippers. All cabins internet access in the cabins which costs RMB 80/hour.
Choose your favourite itineraray, type of cruise cabin room and sailing date or select

for instant confirmed bookings in real time.
Sailing Dates
Deluxe Balcony Cabin
Deluxe Suite
Executive Suite
President Suite
Upstream:
Yichang >
Chongqing (5 days)

May 17-May 21, 2013

$519

$979

$869

$1,919

May 24-May 28, 2013

$519

$979

$869

$1,919

May 31-Jun 4, 2013

$519

$979

$869

$1,919

Jun 7-Jun 11, 2013

$449

$829

$739

$1,619

Jun 14-Jun 18, 2013
$445

$439

$829

$739

$1,619

Show: results
Tipping Special Notes: All passengers on President Cruises sailing between Chongqing and Yichang are required to pay $23/RMB150 per person as service charge. The service charge is payable at the time of boarding.Customer request a specific cabin need an additional fee (RMB190-RMB389) based on the floor of ship.
Price Inclusions:
A. Entrance fees:The land excursions listed in the itinerary.
B. Meals: The daily meals on the ship.
C. Room: Overnight accommodation for morning departure (except Victoria sailing from Chongqing to Shanghai). A berth in the cabin as specified in the itinerary.
D. Luggage Transfers: Between ship and passenger terminal.
E. Service Charge & Government Taxes.
Price Exclusions:
A. Transfers: From airport to passenger terminal in Chongqing/Yichang/Wuhan.
B. Personal Expenses: Expenses of a purely personal nature such as laundry, drinks, fax, telephone call, optional activities, sightseeing or meals which are not included in the itinerary.
C. Single Room Supplement.
D. Gratuities, Tips to guides.
Got a question? Ask us here
Customers' Reviews
The activities seemed very old fashioned to me but clearly appealed to most customers. The crew worked very hard. We enjoyed the embroidery talk and bought several pictures.
Mr. Nigel John Russell WEST, 2012.3.1
We had a great trip to incredible China!! My family and myself enjoy very much every day in your country , especially in cruise on President Prime ship.
Mr. Bill Pfeiffer, 2012.3.15