Make a Reservation
Phone:
800-933-7181 (free in USA & CA), (86)773 288 9566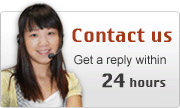 Shopping Guide in China
Besides all the prearranged activities, what else would you like to do in China? Yes, Shopping. Visitors are encouraged to shop at department stores and factories located in most cities. They cater exclusively to foreigners and are stocked with many items made for export only. All prices are fixed by the State and there is little bargaining. But shopping can be very time-consuming, effort taking and confusing. Below are some shopping tips we listed for you.
1. Do dot shop everything in one city.
China is a big country; different cities are famous for different items. For example, Beijing is famous for cloisonn¨¦, cashmere sweaters, Xian is famous for replica of Terra Cotta soldiers and rugs and antiques, and Shanghai is famous for jade, Hangzhou for fresh water pearl, Suzhou for silk, Guilin for scroll paintings and China Southern Sea Pearls.
2. Do dot feel obligate to shop.
Due to the culture differences, our guide may offer you shopping opportunities to fill your leisure time and to meet your needs as a courtesy, but, sometimes, you may think you do dot want to go. Please do not feel embarrassed to let our guide know DIRECTLY (since some of our guides are enthusiastic in taking you shopping). When you in a Chinese shop, you will have Chinese attendants around you, because we Chinese believe that it is not polite if we do dot have someone hanging around with you to be ready at your service. But according to your opinion, you may mistake it as pushing. Again, do dot feel obligate to buy anything only because the shop attendants are very kind to you.
3. Be smart consumers.
Do dot spend big money on things you are not familiar with. Do ask for shop guarantee, contacts and certificates when purchasing big items like antiques, jade, arts¡­
4. Leave plenty of time for transactions.
From the time you decide to purchase an item until the time the transaction is completed will take longer than you expect. When you see something you like - buy it. You would not find it elsewhere and you would not have time to go back.
5. Shopping in free market
The recent economic changes in China have encouraged the entrepreneurial spirit of the Chinese people. As a result you will often find many peddlers set up near tourist sites. The quality of the merchandise is usually lower than in large stores, and extensive bargaining is expected. Should you plan to enter the bargaining game, you might want to bring a supply of small US bills, this will often expedite the bargaining process. Please also take good care of your valuables in crowds.
6. Shopping in local department store
The large department stores and the Chinese shops are especially interesting. Language may be a problem but with a little ingenuity, you can usually manage to communicate through a variety of gestures.
7. Antiques
All major cities have antique shops. Shanghai has the largest and most well stocked. The Chinese are aware of the international prices for their art and antiques and their national prices reflect this knowledge. Only antiques 120 years old or less are available for purchase. The rest are considered national treasures and are not permitted out of the country. Be certain your purchase has an official red wax seal affixed to it, or you will not be permitted to take it out of the country. It is possible to mail large purchases home, but be prepared to spend time and money on processing the proper documents. If at all possible, it is advisable for your purchase to accompany you home. Please ensure that all your discussions with the store are clearly understood by both parties in order to avoid any misunderstanding about your shipment.